[slideshow_deploy id='37576′]
By Alisha Pabon
Stuttgart High School
Special to The Stuttgart Citizen
"Brave Hearts, Resilient Souls" is the April 2018 Department of Defense theme to celebrate the children of our military.
The theme, described on the DoD and Family & MWR websites, embodies the commitment and sacrifice supporting the Army's mission, and a month to celebrate our military's youngest heroes. April marks an opportunity to remember children's roles in strengthening the military family.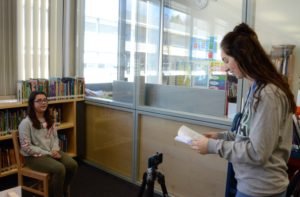 Military kids experience a lot; from growing up without a parent present, to moving a bunch of times in short time spans.
According to the School Liaison Office and Department of Defense Education Activity, the average military child moves six to nine times before graduating high school.
Saying goodbye to friends is the hardest part of moving, said Stuttgart Elementary School fifth grader Robbie Taylor.
"But, it isn't too hard because in the new place there will be many new friends to meet and make," she said.
To honor this month, fellow Stuttgart High School senior and Career Practicum colleague Hannah Rhoden and I found it important to hear children speak about the experiences they have gathered and learned from being a military kid. This project was important for us because we, too, are military kids and are forever influenced by the fast-paced life.
With the help of Child & Youth Services, and Stuttgart Elementary School staff, we interviewed kids from pre-K to fifth grade who excitedly shared with us what they have encountered moving to and living in Germany.
Watch the video interview:
Don't forget to check out the youth events taking place in the Stuttgart community!
Legoland Family Trip April 14
CYS and Army Community Service are providing a free ride to LEGOLAND, departing from the Patch Youth Center, The Hub from Depart at 8 a.m., returning at 5 p.m. Spaces are reserved for unaccompanied youth in grades 6th-12th to attend without a parent, chaperoned by CYS staff. Cost: only pay the entrance fee at a reduced group rate of $26 per child (ages 3-16) and $37 per adult (ages 17 & up). Register through webtrac or at Parent Central Services, call DSN 431-3518/3362 / CIV 07031-15-3518/3362.
Youth Escape Games April 14
Ages 8 – 18 are invited to join the book-themed escape game experience at the Patch Library from 1 – 4 p.m. filled with riddles, puzzles, and secrets hiding in plain sight. Up to 10 participants at a time (30 minutes per game) will solve clues to escape from the locked doors. This event includes multiple room runs at 1 p.m., 1:40 p.m., 2:20 p.m., 3 p.m., and 3:40 p.m. Call to sign-up for a preferred time slot or stop by prior to the event, call DSN 430-5232 / CIV 0711-680-5232.
Military Child Month Reader's Theatre April 19
This is a performance opportunity for ages 6-12 at the Patch Library from 4:30 – 6:30 p.m. Participants will read scripts and work together to bring stories to life for family and friends. This event requires no memorization or acting skills and utilizes minimal props, giving children the chance to experiment with their own dramatic, creative energy. Sign-up is required. DSN 430-5232 / CIV 0711-680-5232.
Strong Teens Night Out April 27
Empower teens with a free self-defense class at the Patch Youth Center, The Hub, from 6-8 p.m. Open to ages in 6-12th grade. CYS registration is not required. For information, call DSN 431-3518/3362 / CIV 07031-15-3518/3362.
Operation Megaphone Lock In April 27
Military youth from all branches, all around the world will join together in the annual Operation Megaphone (OMP) Lock-in. The Patch and Panzer Youth Centers on Patch and Panzer Kaserne will host a lock in at 10 p.m. The event connects teens to discuss key issues that affect military youth, promote communication across all military services, and provide opportunities for youth to give back to their communities. Youth engage in activities including scavenger hunts, technology challenges, minute-to-win-it games, ping-pong, pool tournaments, and more. Food and drinks are provided and breakfast will be served in the morning. Open to grades 6-8 at the Patch Youth Center and grades 9-12 at Panzer Youth Center. Youth must be registered with Parent Central Services. DSN 430-7204 / CIV 0700-680-7204.
CYS Spring Fest: Brave Hearts, Resilient Souls April 28
CYS and ACS have joined forces for Spring Fest, the finale event of the Month of the Military Child & Child Abuse Prevention Month, at the Patch Fitness Center from 11 a.m. – 2 p.m.
Enjoy fun activities to include face painting and other activity stations, an extra-large climbing wall and slide, and bouncy castles. There will also be interactive stations provided by the Military Police, Military Working Dog Unit, Criminal Investigation Division, and USAG Stuttgart Fired Department. Visit each of the stations and to get the event punch card stamped in order to be entered for a prize drawing. Participants must be present to win. Drawings will be held at 12 p.m., 1 p.m. and 2 p.m. For information, call DSN 430-7480 / CIV 0711-680-7480.
Resource: https://www.defense.gov/News/Special-Reports/0416_militarychild/
Editor's Note: Alisha Pabon is a senior at Stuttgart High School and is a part of the Career Practicum program for the garrison Public Affairs office. She is interested in majoring journalism and communications.