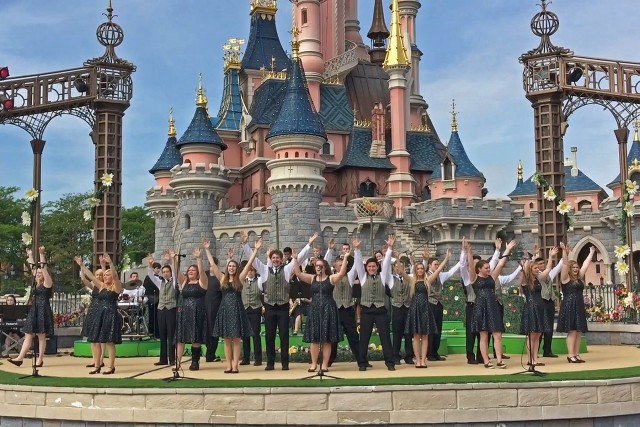 Story by Holly DeCarlo-White
USAG Stuttgart Public Affairs Office
The Patch High School Harmony Express show choir and jazz band performed on the main castle stage at Disneyland Paris on May 28, followed by a professional workshop held May 29 as part of the Disney Performing Arts OnStage program.
"The Disney main castle stage was recently overhauled and enlarged. We are the first DODDS school to be invited to perform on this, the biggest and most prominent of the Disney performance areas," said Alan Landers, co-director of Patch High School's music program.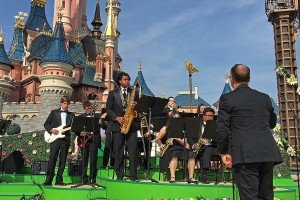 Harmony Express students took part in a vocal and choreography workshop in the Disneyland Paris backstage area. Disney workshops are lead by entertainment professionals to help students develop fundamentals, reinforce performance concepts and fine‐tune techniques in a fun hands-on session.
"A customized song and dance routine was taught to our students by an energetic and talented singer/choreographer who inspired the kids to ask follow-up questions on music, dance, show business and auditions," Landers said.
Chesney Walters, a Patch High School junior and member of Harmony Express show choir, enjoyed the performance workshop experience. "We got to go in the Cast Members Only door and enter the park backstage, like actual employees, to do the show and workshop."
"The energy that the workshop instructor gave kept us upbeat and helped our overall energy as a group. I was surprised to see how quickly we picked up the routine that she taught us and how we were basically able to learn and choreograph an entire piece in an hour and a half," Walters said.
For more information on the Disney Performing Arts OnStage program visit www.disneyyouth.com.