By USAG Stuttgart Public Affairs Office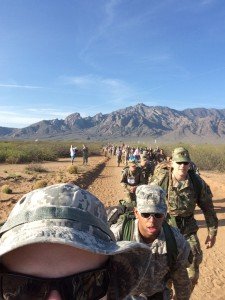 Patch High School graduate Ben Ferguson, now a cadet at Marion Military Institute in Marion, Ala., completed the 27th annual Bataan Memorial Death March at White Sands Missile Range, N.M., March 20.
Considered one of the hardest marathon-length routes in the U.S., participants come from all over the world march to honor the Bataan fallen and World War II survivors.
"The U.S. Army Cadet Command offered a chance for a team from each military junior college to participate," said Ferguson whose father Timothy is a contractor at U.S. Africa Command, and mother Susan works at Patch Elementary School. "It was a great experience. Looking back on it I enjoyed the march greatly. In the moment, especially the last 6 miles, it was difficult but still an overwhelming and awe inspiring experience."
Since its inception in 1989, the Bataan Memorial Death March has grown from about 100 to over 12,000 marchers, spectators and volunteers from around the world. The march is a military event, but many civilians and athletes come to WSMR to take the challenge or volunteer.
Marchers can select between two routes, the full 26.2 miles or 14.2 miles. Participants can choose to participate in the heavy category, which requires you to carry a pack that weighs more than 35 pounds, or the light category which has no weight requirements.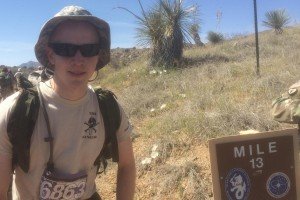 "I would recommend it to everyone. Whether they want to go heavy (35+ pound ruck) or light (no ruck) is up to them. My group went heavy and it was exactly that," said Ferguson.
The story of the Bataan Death March began April 9, 1942, when around 75,000 Filipino and U.S. Soldiers were surrendered to the Japanese forces. The Americans were Army, Army Air Corp, Navy and Marines. Among those seized were members of the 200th Coast Artillery, New Mexico National Guard. The prisoners were forced to march approximately 100 kilometers north to Nueva Ecija to Camp O'Donnell, a prison camp, in the scorching heat through the Philippine jungles.
For more information on the Bataan Death March, visit www.bataanmarch.com.