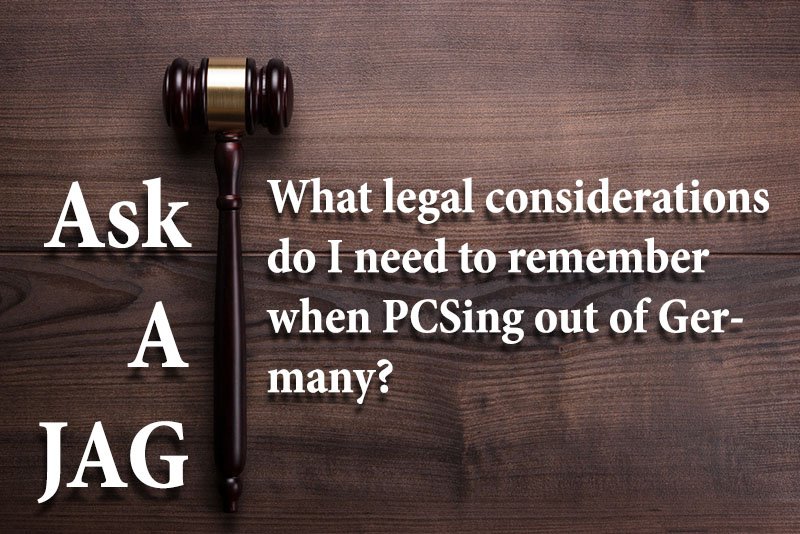 By Werner Sukup and Capt. Austen Swaim
Stuttgart Law Center
Moving can be exciting, challenging and stressful. But did you know you can take steps now to prevent many common legal issues? The following is a list of steps to make your Permanent Change of Station just a little less stressful:
Claims:
Always save receipts for high-value items, items that cannot be easily replaced or items you think are prone to being damaged. I you must file a claim for these items, a carrier or Military Claims Office may ask you to prove how much you paid for the item. A receipt or billing statement is a great way to do this.
Photograph or video-record your household goods items on the day of shipment. Make sure such visuals are date-stamped so there is no question as to when these images were taken. That way if a TSP argues the claimed item had pre-existing damage you can pull out your time-stamped visuals and prove them wrong!
On a similar note, watch the packers to ensure that the "exceptions" they write are accurate. Sometimes packers write exceptions for everything under the sun hoping to mitigate liability. If you disagree with an exception, you can write that you disagree. Remember: Your signature at the bottom of the inventory means you agree that everything on the inventory is accurate, even the exceptions written by the movers!
Take a pro-active role in packing. If you believe the packers are doing an inadequate job, call them on it. Although it is their job to pack, the claim is not a hassle the movers deal with, but that you must confront down the road.
Finally, and this applies to the move-out and delivery, if the shippers did a poor job, don't give them an "Excellent." Change can only happen when people speak up. But if the movers broke all of your things but you still give them a good rating, you're not doing yourself or anyone any favors and a poor mover will get to keep on moving service members. Speak up!
Real Estate:
Pay close attention to the required notice period of intent to vacate premises on your rental contract. For example, if you are required to give three-month's notice but only give two-months notice, your landlord may hold one month of rent from your security deposit.
Don't rely on the military exception in your rental contract to give late notice if you had PCS orders long before. Your landlord may not honor the exception and may deem your notice to vacate late and withhold from your security deposit.
To terminate your rental contract, ensure that you follow the procedures in your contract and that all correspondence is mailed and ask the postal representative for "Einwurf-Einschreiben mit Rueckschein" (registered mail with return receipt). If you have additional questions on how to terminate your contract please visit the Housing Office on Panzer Kaserne.
Contract Termination:
BahnCard Termination:
The easiest way to terminate BahnCard is via email. You can email the cancellation to: bahncard-service@bahn.de
In the subject line, write your BahnCard-number and the word "Kuendigung," which in German means termination.
In the body of the email, write the following termination language:
"Hiermit kündige ich meine Bahncard zum nächst möglichen Zeitpunkt. Bitte bestätigen Sie mir meine Kündigung mit dem Wirksamkeitsdatum der Kündigung. Danke.
Mit freundlichen Gruessen
(Your Name)"
The above translates to: I hereby terminate my BahnCard at the soonest possible date. Please send a confirmation of my termination, including the date the termination will become effective. Thank you.
To copy-and-paste the above termination notice, visit www.stuttgartcitizen.com and view this article online.
Important Note: The termination must arrive there at least 6 weeks prior to the expiration date of the Bahncard (this is also mentioned on the Bahncard itself).
Telephone and Internet Contract Termination:
Be aware that landline telephone, Internet and cable contracts usually contain an automatic renewal clause. In order to terminate such contracts the customer must ordinarily provide a 3 month written termination notice. For example, if you want to cancel your contract on 1 April, your termination letter should arrive no later than 1 January.
Cell phone contracts (especially if you received a cell phone at a subsidized price with the contract) automatically renew for 12 months after the expiration of the original agreed upon contract period. Again, in order to terminate, a customer must provide written notice of termination at least 3 months prior to the desired termination date. Please note that if you want to end your contract before the initial contractual period runs, the provider will likely charge you the monthly fee times the number of months left in the contract.
Whether you are terminating a landline, Internet, cable or cell phone contract you should always send your termination, in writing, via the German post system and make sure that you send the termination registered mail with return receipt. Ask the postal representative for "Einwurf-Einschreiben mit Rueckschein." This is probably the last and most important German phrase you will learn!