By Geoffrey Morris
Stuttgart Citizen volunteer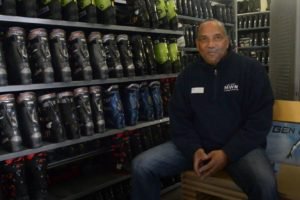 Ernest Johnson, known to many as Ernie, manages the MWR's Outdoor Recreation office (ODR), on Kelley Barracks, with a constant smile on his face. A dedicated and friendly man, he is well liked by those he has worked with over his 40 year career.
Born just south of Richmond, Virginia in a town called Lawrenceville, Johnson grew up in the Richmond area and enlisted in the Army right out of high school in 1977. He served in the Central Issuing Facility at Hanau, Germany in the 503rd ST Battalion, issuing equipment and managing logistics, a prelude to his present role as a manager.
During his time in military service, Johnson said he was not a well-traveled soldier. "I wasn't really one who went out and did something on my own, it wasn't until after getting out of the service I became more adventurous," he said. In 1981, Johnson left the Army, and toured Europe for a year in a rented camper, ending his trip in Egypt.
"Things have changed so much, you can't just jump in a camper and drive anywhere, anymore."
After his big roadtrip, Johnson began his career with MWR by taking a few different positions around Europe before settling down in Stuttgart in 2007. He said he enjoys talking to customers about Europe and how ODR can help them enjoy all the local outdoor activities available to them.
"With everything that's going on….we will keep serving our customers the best we can."
As those activities change over the years, so has ODR to reflect the recreational needs of the community he added. And that community is always ready to support his team in return.
"We turned a former storage bay into a workshop for skis and boards," said Johnson. "Volunteers from several organizations came to help us clear it out and get it set up. We really appreciated the help."
A humble man through and through, Mr. Johnson spoke highly of his time with Outdoor Recreation and its part in keeping up morale and happiness on the garrison. Even when coronavirus impacted their move from Panzer to Kelley, the team scrambled to organize the new location within a week to reopen to the public. Johnson said the enthusiasm of his staff keeps him going. And with 40 years of service under his belt, Johnson will continue to lead them through whatever comes next.
"With everything that's going on, we will survive," he said. "And we will keep serving our customers the best we can."