Kim Vandenberg, champion swimmer and Olympic medalist, shared tips with more than 60 swimmers during two swimming clinics hosted by the Stuttgart Piranhas swim team Feb. 8 at Gartenhallenbad Maichingen.
Held just one week before the annual European Forces Swim League Championships, the clinic was attended by the U.S. military-affiliated members of the Stuttgart Piranhas swim team and members of the Maichingen Hippos, a local German community swim team.
Vandenberg was a member of the bronze medal-winning U.S. Olympic team in the women's 4×200-meter freestyle relay at the 2008 Summer Olympics and won a silver medal at the 2007 World Swimming Championships in the women's 200-meter butterfly.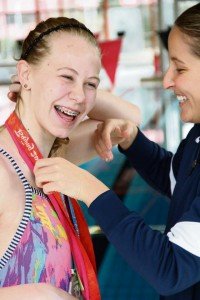 Vandenberg provided instruction to the swimmers in the butterfly and the freestyle, her specialty strokes.
According to organizers, the clinic was held to instruct and inspire both swimmers and coaches during the long winter when it is easy for swimmers to lose focus.
Vandenberg gives instruction to youth from both the U.S. Stuttgart Piranhas and German Maichingen Hippos swimming teams
"Kim's visit was a great morale boost at just the right time, especially since she came on the opening weekend of the winter Olympics in Russia. She let each and every swimmer pose for photos with her medals, but even better was that every single swimmer in attendance had a chance to race her in the pool," said Tricia Huebschman, mother of two of the swimmers and Stuttgart Piranhas secretary.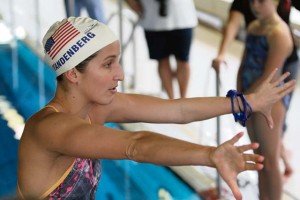 According to organizers, the Piranhas swim team spring season is scheduled to begin in March with "Road to Rio" as the year's theme because Rio de Janeiro is the location of the 2016 summer Olympics.