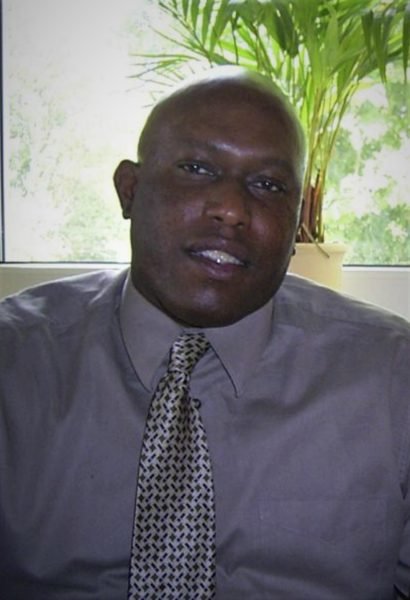 By Larry Reilly, USAG Stuttgart Public Affairs
During the latter part of March when the impact of the coronavirus was affecting the Stuttgart Community in many different ways, Exchange employees were mourning the loss of a friend and colleague who had dedicated years of his life to serving the Stuttgart military community.
Edward Taylor, the Panzer Food Court manager for many years, passed away just days before the impact of COVID-19 would diminish the once customer-lively arena where Taylor thrived, to a food court void of tables and chairs and reduced a booming food service operation to a trickle of take-out orders.
The emergence of COVID-19 left little time to adequately bid farewell to the gentleman who not only meant so much to his fellow workers and customers, but also to his loving wife, Gabriele and their son, Keeyon.
"Ed was dedicated and loyal to his family, facility and the Exchange," said Mike Ryan, general manager of the EUCOM Consolidated Exchange. "Ed was a man who gave back to the military community by serving those who serve. His service in turn helped make our community a better place for people to live their daily lives."
Remembered as an extraordinary leader who shared his knowledge, expertise and skills, Taylor was considered by many a fundamental part of initiating and implementing new programs.
"For many years, Taylor was the lifeblood of the Patch Barracks and Panzer Kaserne food courts, whose sole goal was to improve the quality of life for people in Stuttgart," Ryan said. "Taylor's sense of humor and his tendency to put others before himself also stood out, along with his willingness to share his ideas and information."
Taylor joined the Army & Air Force Exchange Service in 1988 after honorably serving in the military for six years.  For three decades, he rose through the ranks of AAFES, serving the communities of Heidelberg, Mannheim and Stuttgart.
"As a member of the Exchange team, he provided energy, commitment and inspiration to his associates," Ryan said. "He gave a lot to his work during his 32 years of service at various Exchange facilities.  He would take it upon himself to make personal sacrifices in order to work and assist his community and Exchange family."
Born Jan. 19, 1965 in Manhattan, New York, Taylor joined the Army in 1982 and served as a radio operator.
"Ed was known to friends as "ET," a popular movie of the era where an alien visits Earth and wants to phone home. Taylor had the perfect nickname for his job," said Cecil Moore, who first met Taylor in 1984. "The only reason he left the military in 1988 was to pursue his real dream of managing a restaurant business. He enjoyed the European culture and cuisine and chose to stay in Germany.  He used to go over to the dining facility and advise them on what they should, and should not serve. They actually use to listen to him."
Taylor was well thought of as a manager and an associate and those feelings of kindness and appreciation also reflected how he felt toward those he worked with and for.
"As the AAFES Food Court Manager, he spoke of how he was so proud to serve the Stuttgart community and he never wanted to leave," Moore said. "We all loved Ed, when there was a shortage of personnel on any day there was Ed serving us.  If Ed noticed you were not having a great day, he would try and brighten your day by sharing a joke or offering great advice."
With the lessening of the COVID-19 pandemic and the easing of related restrictions, the tables and chairs of the Exchange food court will return, but something will be different; something will be missing.
"Ed was a genuine person—one we will miss greatly," Ryan said. "Our sorrow is lessened only slightly with the comforting thought that we had the privilege to know him."