By Moneé Luckey
Stuttgart Citizen volunteer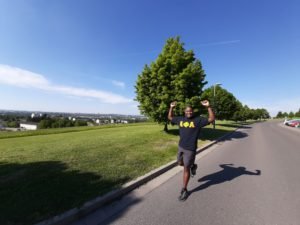 COVID-19 has impacted private organizations' ability to hold fundraising events, but it didn't stop members of Theta Theta Lambda Chapter of Alpha Phi Alpha Fraternity, who recently held a four-mile virtual "March for Babies" walk.
Theta Theta Lambda raised $2,218 online for the May event, which they coordinated through online chats. Chapter members and families from U.S. military communities across Germany took part in the walk, part of an annual March of Dimes effort, while adhering to local coronavirus restrictions and community guidelines. Proceeds help fund research to prevent premature births, birth defects and infant mortality.
"Charitable fundraising and community organizations are what make military family life so enjoyable."
"In the midst of this unfortunate global COVID-19 pandemic, Theta Theta Lambda Chapter of Alpha Phi Alpha Fraternity, Inc. continues to collaborate and partner with the March of Dimes to raise needed funds for healthy babies research," said Dr. Noah Mitchell, Chapter President and Chief of DODEA Procurement Field Support Operations.
March of Dimes and Alpha Phi Alpha, a private organization under U.S. Army Installation Management Command – Europe, have collaborated since 1980. In the last five years, the fraternity has raised more than $1 million in support of March for Babies.
"This is my seventh year supporting March for Babies, from five military communities, in three countries," said Lt. Col. Jason O. Luckey, Chapter team captain and C4/Cyberspace Planner with U.S. European Command. "Charitable fundraising and community organizations are what make military family life so enjoyable."