By Col. Jason Condrey Commander
U.S. Army Garrison Stuttgart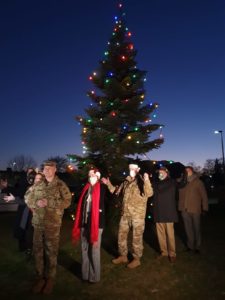 As the year draws to a close for our community, many have taken some time to reflect on all that we have been through together. I realize that many may be trying to block out parts of 2020, as there were things that we had to do, or did not get to do, that we'd rather not think of again. But it is important to acknowledge the adversity that we have endured and the small victories we have won during the past 12 months.
When we celebrated New Years 2020, probably surrounded by family and friends, or watching a spectacular firework display in some foreign city, we could not have imagined how the year would turn out. If your new year's resolution was to hit the gym in 2020, I'm sure you didn't plan on doing so while wearing a facemask. Many had a goal of visiting 10 countries this year but thanks to COVID, you were lucky if you left Germany.
We could go on and on about the things we did not get to do this year, but I think it is better to highlight what we did do. We continuously came together to negotiate each obstacle COVID threw in front of the community. A great example of this is the concierge shopper program. Created by the dedicated folks at ACS, and powered by our community's finest volunteers, we put in place a program that allowed support for our quarantined community members as they navigated a stressful situation over which they had little control.
In 2020 more than ever before, I have seen service members and civilians step outside their job description to protect our community. They check ID's at high-traffic areas, provide crucial health screening for those entering our installations and brave the elements to facilitate testing at our COVID drive through site.
Family members, so often left behind when their loved ones go into battle, found themselves on the frontlines of a uniquely difficult adversary, one we had yet to face in generations. Dependents stepped up to fill vital jobs in high-risk areas like the commissary, CDCs, and post offices as our COVID positive numbers rose on-post and off.
We continuously came together to negotiate each obstacle COVID threw in front of the community.
Volunteers came through when commissary workers needed help to keep the shelves stocked. And the creativity in this community when it comes to helping our younger citizens enjoy important milestones like birthdays, first days of school and holidays has been amazing to witness.
Thanks to the foresight and innovation of leaders around the community we quickly evolved from combatting COVID as the mission to resuming our mission requirements in a COVID environment. Because of the dedication of our men and women across the installation, we proved just how capable and flexible we are in a time when our enemies might have perceived a weaknesses.
This community came together in an ever-changing, stressful environment to ensure that our neighbors were taken care of and our mission endured. 2020 is not a year that we will look back on fondly anytime soon, but it is one that we will look back on with the knowledge that we rose to the occasion and demonstrated community resiliency in the face of hardship. And when the dust settles on COVID's chapter of the history books, I will always be glad that this community is where I was fortunate enough to endure this pandemic.
I know it's not over; we're not done yet. And I could end this with that classic line you've heard me say so many times; however, this time, I'll just say, from my family to yours, Happy Holidays, Merry Christmas and Happy New Year.