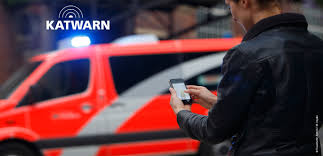 By Holly DeCarlo-White
USAG Stuttgart Public Affairs Office
The U.S. Army Garrison Stuttgart Antiterrorism Office recommends residents stay up-to-date through local news sources about the area they live when they are in or out-of-town. KATWARN is a free mobile app service for official warning information in German zip codes. The app exclusively displays information from authorities, facilities and control centers. KATWARN tells users when there is a potentially dangerous situation and suggests what to do when alerted.
With the ability to register seven different zip code areas, the app is a good resource to monitor activity in off-post areas while away from home.
"If I am at work or TDY and alerted of activity in my neighborhood from the app, I know to contact my family members at home to make sure they are OK and aware too," said Robert Daul, antiterrorism officer, USAG Stuttgart. "It's a helpful tool to monitor my local neighborhood, in addition to AtHoc alerts from garrison officials, when my family is out of town, I know what's going on near my house."
According to the app website, KATWARN sends important warning and behavioral information supplemented by sirens, loudspeaker announcements or messages on the radio. The warnings do not include weather, which is announced by the German Weather Service. The sender of each warning is indicated in the respective text message received.
The app includes the following features:
Official warnings for a current location in Germany
Official warnings for seven user-selected locations
Event-related warnings by theme subscriptions (events, closed areas, etc.)
Overview of warnings in the wider area
Ability to forward or share alerts, for example, via Twitter
Personal test alarm on personal smartphone
In the event of municipal threats and threats to public security, the responsibility lies exclusively with the respective county or the city. State and large-scale threats to public security are responsibility of the minister of the interior for the following cities: Berlin, Hamburg, Rhineland-Palatinate and Saarland. If personnel plan to travel to these areas, or any areas abroad, register with the Smart Traveler Enrollment Program (STEP).
To register for on-post alerts through AtHoc, go to the AtHoc self-registration link using a Common Access Card here: https://warnings1.army.mil/SelfService/2026328. For step-by-step instructions, click here.
Warning areas available in the KATWARN app include:
District of Ahrweiler

District of Altenkirchen

Landkreis Altötting

County Alzey-Worms

County of Anhalt-Bitterfeld

County Aschaffenburg

County Aurich

County Bad Dürkheim

Bad Homburg

District of Bad Kreuznach

Bayreuth

Copy to Clipboard

County of Böblingen

Burgenlandkreis

County Cochem-Zell

County Dahme-Spreewald

County of Darmstadt-Dieburg

County Deggendorf

Donnersbergkreis

City of Emden

County Euskirchen

City of Frankenthal (Palatinate)

County Friesland

County Fulda

County Fürth

County Germersheim

County Gießen

District of Göttingen

City of Göttingen

District of Groß-Gerau

Region of Hannover

City of Hanover

City Hall

District of Herford

District of Hersfeld-Rotenburg

County Hildburghausen

City of Kaiserslautern

Koblenz, Germany

Lahn-Dill circle

City of Landau in der Pfalz

County Leer

Circular lip

Ludwigshafen

Main-Kinzig district

County Mainz-Bingen

Mannheim, Germany

County Marburg-Biedenkopf

County Mayen-Koblenz

Munich

District of Munich

Neustadt an der Weinstraße

County Neuwied

Nuremberg

Odenwaldkreis

Landkreis Offenbach

City of Oldenburg

County of Osnabrück

District of Paderborn

City of Pirmasens

Rhine-Lahn district

Rhine-Palatinate region

Schwalm-Eder-circle

Speyer

Landkreis Südwestpfalz

The Vogelsbergkreis

County Waldeck-Frankenberg

County Wesermarsch

Werra-Meissner district

Westerwaldkreis

Weathercam

County Wittmund

City of Worms

County Würzburg