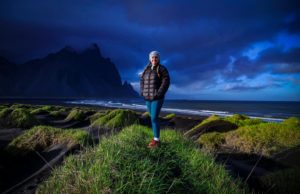 Story by Becca Castellano
USAG Stuttgart Contributing author
The land of Fire and Ice landed at the top of my bucket list several years ago as photos of its otherworldly landscapes began popping up all over Facebook and Instagram. As my obsession with the remote island grew, it seemed the rest of the world's curiosity with the island did too. Tourism in Iceland has expanded dramatically in recent years but it's still not a destination you can land in and "wing it." Lodging, whether hotels or Airbnb's, are popping up all over the island, but they can be pricey and in high demand. And if you are trying to leave Iceland's capital, Reykjavik, guided tours or rental cars might be your only options. 
Planning
When planning for my family of two, I decided early on to join the camper van craze that dominates Iceland's tourism industry, and drive the island in our own home on wheels. With many options designed to fit every family size, we chose a basic, two-person camper complete with everything we needed to survive for nine days. (This was the perfect amount of time to see everything we wanted, and, most importantly, still like each other after living together in such close quarters.)
From the countless waterfalls, each one more mesmerizing than the last, and the hidden hot springs at the end of dramatic hikes, there is just so much to see, do and experience in Iceland.
Our camper van came with basic cooking gear, a propane camp stove, two chairs, a camp table, and a cooler. For a small fee, we opted to add portable WIFI and a power converter to charge our computer and camera gear. We were plugged in and accessible everywhere we went on the island, which provided peace of mind when driving through Iceland's more remote areas. 
Where to sleep
Wild camping has been outlawed in Iceland, but there are plenty of designated camping grounds all over so we never had an issue finding a safe place to park for the night. All were equipped with toilets and water, and most had heated showers and kitchen facilities. There is an Icelandic camping card you can buy that gives you access to several campgrounds around the country, but this does limit which ones you can use.
I highly recommend the van life experience, because even with a detailed itinerary, we were often pulled off course by some otherworldly scenery we found ourselves driving through. Some of our favorite memories from this vacation were made on detours we never planned. Our impromptu stops only happened because we did not have reservations to keep at any hotels. 
Land of the Midnight Sun
I highly recommend visiting during the summer months. We had originally planned to travel over our anniversary in early September 2020 in hopes of seeing the northern lights. But, when COVID-19 cancelled our trip, we jumped at the chance to reschedule in May 2021. If COVID has taught us anything, it is to not wait for the perfect timing, just go! So, we booked for May 28 through June 7 and I am so glad we did. The midnight sun is a strange thing to experience, but we saw so much more on our daily drives and we were able to enjoy some of the Arctic "Summer" weather with an average daily high of 53 degrees!
What to see
Finally, the fun part. Planning on what to see! I have included the highlights from our trip below but I highly recommend following Icelandic travel pages on Facebook or Instagram to tailor your own itinerary to your specific interests. We mixed in a few paid, guided tours but mostly we spent our days exploring at our own pace and stopping when we got tired. 
Our top three recommended sites are:
1. Fagradalsfjall Volcano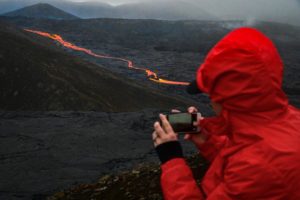 I lived at the base of Mount Etna in Sicily for three years and watched her frequent eruptions from my rooftop. But it was nothing compared to the adrenaline I felt watching Fagradalsfjall blow after a grueling hike up steep terrain in driving rain. The raw power we experienced from this volcano was unreal. If you ever get the chance to visit while she is still erupting, do it! And if you miss it, well no worries, it is the land of Fire and Ice for a reason! 
2. Diamond Beach at the Glacier Lagoon
The other half of the Fire and Ice can be found a few hours away along Iceland's southern coast. Diamond Beach, just outside of The Jökulsárlón glacier lagoon, gets its name from the smooth, glassy chunks of ice that glitter across its sand like diamonds. As the "bling" breaks off of the Jökulsárlón glacier in the lagoon, it makes its way out to sea and often washes ashore on Diamond Beach. Gemstone to car-sized "diamonds" make a dramatic scene against the black sand beach. 
*We opted to take a boat tour in the lagoon and loved it! The guide explained how researchers use the air bubbles within the ice to date the glacier. Then she fished out a giant chunk of ancient glacier for us to use in our cooler later. 
3. Silfra Fissure
Snorkel or dive between two tectonic plates in the Thingvellir National Park! This can only be done in a guided tour, and it was definitely worth it!  After being fitted for dry suits and receiving a safety briefing, we followed our guide into crystal clear water and began our journey between the North American and European tectonic plates. Despite the freezing temperatures, the water looked straight out of the Caribbean. Tour guides boast that this is the only place in the world where you can touch two different continents at the same time, and they make sure to get a picture of you doing just that! 
Honorable Mention: Stokksnes Beach
Stokksnes Beach Earns an honorable mention for its quiet beauty and amazing sunset. We happened upon this quiet corner of the island one evening and stopped for a picture. Several hours and hundreds of photos later, we decided this was one of our favorite spots. If you're planning to visit, I recommend trying to arrive at dusk when the sinking sun ignites the black sand. 
Things to know:
Waterproof pants
Seriously, do not even think about visiting Iceland without these game changers. We used these (paired with waterproof jackets) to climb behind massive waterfalls and trek through a massive torrential rainfall on our way up an active volcano. They made those once-in-a-lifetime views possible and comfortable.
Camera
Because if there are no pictures, did it even happen? The landscape here is the closest thing to a foreign planet that I have yet to see. Bring your camera. And if you have a fancy expensive camera, you might want to consider investing in a waterproof cover because if you haven't figured it out yet, Iceland is often wet.
Warm layers
We watched, in our Longjohns and winter hats, as children in Husavik, Iceland celebrated "warm" spring weather on a slip-n-slide ran by the local fire department. No matter how warm it gets in Iceland, I don't think you can enjoy it in shorts and a t-shirt unless you are a local. 
Shopping
We lived in a van so groceries stores were key. So if you are committing to camper van travel,  make sure to stock up in Reykjavik, as the stores there are a little cheaper and more abundant. Keep in mind most stores close at 6 p.m., which shouldn't be a shock to those of us living in Germany, but with a sun that seems to refuse to set, evening hours can catch up on you. Unlike Germany, however, alcohol isn't sold at the grocer, but rather at the state-owned liquor stores Vínbúð.
Souvenirs:
The number one souvenir sold in Iceland is a sweater called a Lopapeysa. These are knit from Icelandic sheep wool, which is uniquely suited to repel water and keep the wearer warm in all weather conditions.  These snazzy sweaters are a bit pricier than your average travel souvenirs but there are ways to find one at a reasonable price if you want to look the part on your epic road trip. Try visiting the thrift shops around the Island to snag one second hand at a fraction of the cost!
If you're visiting Iceland on a budget and guided tours are not your thing, or if you have the spare cash and want to live it up in hotels have no fear. Even without the above mentioned activities, we would have fallen in love with this place. From the countless waterfalls, each one more mesmerizing than the last, and the hidden hot springs at the end of dramatic hikes, there is just so much to see, do and experience in Iceland. Some of my favorite memories were made just soaking in Mother Nature's artwork. We're glad we took the trip, and we hope you do too.