By Becca Castellano
U.S. Army Garrison Stuttgart
On March 19, 1917, Navy Secretary Josephus Daniels issued a historical order allowing female Sailors to join the Naval Reserve Force. Two days later, Loretta Walsh enlisted in a modified male Chief Petty Officer's uniform, and became the first woman to officially serve in the armed forces. When WWI started, just 16 days later, 200 more women had joined her.
Since then, thousands of women have followed in their footsteps, and most have had to serve in uniforms designed for their male counterparts, or body types different from their own. As women's roles and responsibilities in the armed forces have expanded, too often the uniforms they wear are slower to catch up. 
(Ret.) Col. Jane Crichton enlisted as an administrative specialist in the Army in 1982. When she reported to boot camp, she was issued the Army's brand-new Battle Dress Uniforms, or BDUs, which had just replaced the previous green uniforms known as pickle suits. 
"I remember wishing that we'd gotten the green uniforms because they looked better than the BDUs," said Crichton. "And that the uniforms were a bit stiff until they were washed a few times."
Once broken-in, Crichton said the BDU's were ok but the female Army Service uniform, or class A's, were ugly. 
"We had two versions, a pant suit and a skirt suit and the pant suit was horrible," she said. "The female uniforms at that point in time, early to mid 80s, made you think that they were really trying to make you look as unappealing as possible."
Crichton's thoughts have been shared by many women who have had to work in uniforms designed for a man's body. With that in mind, the Army Uniform Board approved funding to research a female-only Army Combat Uniform (ACU) in 2009. Feedback from focus groups directed their attention to narrowing the shoulders, tapering the waist slightly and flaring the hip a bit more. The new design also featured an elastic waist and more room in the seat. 
After several phases of testing on both men and women, the new uniform was found to fit everyone better and was rolled out as a unisex option in 2012. 
Focus groups like the ones used to improve the Army's ACUs, paired with surveys, help leadership across all branches to continuously improve user experience. But that can also mean a service member may see several uniform changes throughout their career. 
Over the course of her 33-year career, Crichton endured four changes to her P.T. uniform, three changes to her Class A's and four changes to her combat uniforms. Some of those changes, like improvements to boots and the addition of pen holders on combat uniforms, were great for Crichton, but not all changes were appreciated.
"I did not love the last Class A uniform I had. It was blue and made of light wool and it creased so badly and just didn't hang well," she said. "Also, the shirt was white and when I put on the uniform my first thought was that I looked like I was in the Salvation Army." 
The mission to design a uniform that works for both men and women and is practical, comfortable, and safe, continues to be a struggle for the services. In a recent uniform update, the Army decided to reach back into the vault and update a classic look, the WWII Army Green Service Uniform.
When the Army announced plans to revamp the beloved look in 2018, they took an unprecedented step and assembled an all-female board to provide extensive feedback on the design of the women's uniform. One result of their input is that women will be issued pants, tailored to the female body, to wear alongside their male counterparts. Skirts are still available for purchase, but they will not be the default option. 
Project manager for Soldier Survivability at the Program Executive Office, Col. Stephen Thomas, said the all-women board voted unanimously for the change. 
"That whole all-female board decided, 'Hey, so we want trousers as opposed to a skirt as being the primary uniform because we want all of us as soldiers to look the same," Thomas told reporters during a round table event. "And I thought that was pretty profound, for that all-female board to come up with that decision."
The project to outfit the Army in the modern take on the old look will roll-out during the next several years. Soldiers will not be required to own the new Class A uniform until 2027. 
The Air Force is also working to improve uniforms for their female ranks. After a recent study found that nearly 400 pregnant Airmen were resorting to wearing larger flight suits during pregnancy, creating safety issues, the Air Force launched a project to develop maternity flight suits. The initiative went from concept to reality in less than a year, allowing pregnant Airmen to continue working safely, further into their pregnancy. 
The Air Force also signed a contract to buy thousands of sets of body armor tailored to the female form that fixes gaps in protection that the previous armor, designed for men, created for women. 
The Air Force leads the other branches in female service, with women making up 20 percent of its staffing. So, it's not a surprise they often have more modern standards when it comes to women's uniforms and grooming standards. 
Crichton said she was always envious of some of the Air Force's policies in regards to women in uniform.
"I always wished we could wear earrings like they did in the Air Force so I'm glad to see that changing in the Army finally," said Crichton. 
All the services have announced major changes to grooming standards over the last decade. The Navy, which used to cut all female recruits' hair to chin-length in basic training, ceased the practice in 2015 after feedback highlighted that it was better to allow new recruits to learn how to style their hair into military buns than to send them to the fleet with hair that was too short to put up. 
The Navy relaxed their standards a little further in 2018 by allowing ponytails in uniform after studies also showed that the typical "military bun", which was often slicked back and too tight, left many women suffering from headaches or hair loss. The Air Force and Army soon followed suit and during the past year, have created more accommodating grooming standards that embrace the diverse nature of the armed forces. Women no longer have a minimum length they must maintain and they can wear their hair in buns, braids, ponytails, dreads, and locks, with specific standards for each style to maintain safety and professionalism. 
These changes create a more inclusive environment according to a statement from the Chief Master Sergeant of the Air Force, JoAnne S. Bass.
"In addition to the health concerns we have for our Airmen, not all women have the same hair type, and our hair standards should reflect our diverse force," said Bass in a released statement on the Air Force's official website. "I am pleased we could make this important change for our women service members."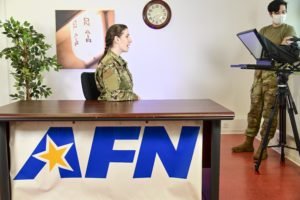 AFN Stuttgart's Air Force Staff Sgt. Krystal Wright said the sweeping revisions, which include new nail polish guidelines and jewelry wear, make her proud to be a part of such an inclusive organization. 
"We can look feminine and still look formidable," said Wright. "Whether my hair is in a bun that gives me a headache or braids that allow me to work comfortably, I can still excel at my job."
As for the military's mission to create uniformity while celebrating diversity, Crichton said at the end of the day, accommodations are good as long as they continue to be practical, and present a professional appearance. 
"Uniforms help to identify our members as a team as well as support the idea of being part of a profession," she said. "I always found that when I thought I looked good and professional in my uniform I felt confident and proud to be a Soldier."
Plenty of changes have occurred during the 104 years since Walsh enlisted as a secretary in her altered men's uniform, to today's female Airmen, flying in maternity suits. But one thing remains the same, when their nation needs them, women are answering the call.