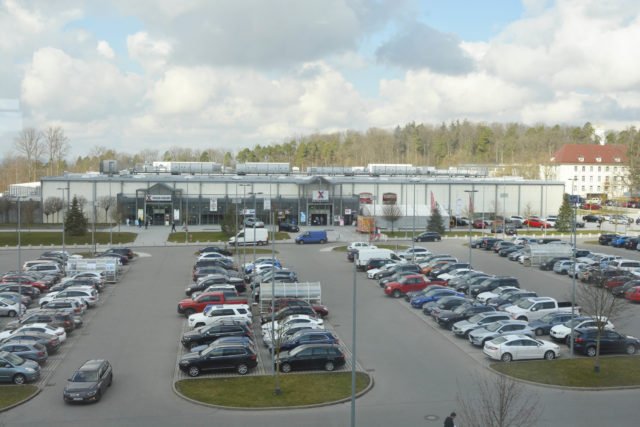 Army & Air Force Exchange Service Public Affairs
News Release
DALLAS –The Army and Air Force Exchange Service is helping Warfighters and their families focus on readiness and resiliency while reaching their fitness goals.
"The Exchange is focused on the health and well-being of Airmen, Soldiers and their families so they can stay ready and resilient for our Nation," said Air Force Chief Master Sgt. Luis Reyes, the Exchange's senior enlisted advisor. "With a wide assortment of fitness products as well as better-for-you choices in food courts and Expresses, the Exchange is a one-stop shop for living BE FIT."
At Exchange stores worldwide and ShopMyExchange online, military shoppers can get the latest gear to maintain a BE FIT lifestyle, including athletic apparel and footwear; strength training and cardio equipment; digital fitness devices and more.
"Smart technology continues to expand," Reyes said. "The Exchange will be offering the latest fitness trackers and workout equipment in store and online that track fitness levels and integrate personalized training programs."
Nearly 70 Exchanges worldwide feature BE FIT concept shops, where Soldiers and Airmen can find athletic apparel and footwear in one convenient spot. The shops, which look and feel like major sporting goods stores, are part of a strategic initiative to bring top national brands to military shoppers at competitive prices.
Essential BE FIT gear offered by the Exchange, both in-store and online, includes:
Athletic apparel from 15 brands including Nike, Under Armor and Adidas.
Athletic footwear from more than 15 brands including Brooks, Asics and New Balance.
Treadmills, exercise bikes and elliptical machines from Preforms, NordicTrack, Spirit Fitness and more (nearly 20 items in store, more than 650 online)
Digital fitness accessories from Fitbit, Garmin and Samsung (nearly 100 styles in store and online)
Apple Watch devices with fitness tracking capability (nearly 50 variations in store and online )
Hydration gear from Camelbak (more than 120 items), Yeti (nearly 25 items) and Hydro Flask (more than 50 items).
The Exchange also operates eleven durable medical equipment shops that offer products such as CPAP supplies, compression garments, breast pumps, walkers, knee braces and more. The Exchange has plans to open eight additional shops in 2019, including locations in Ramstein and Camp Humphreys.
More information about how the Exchange can help military shoppers lead a BE FIT lifestyle can be found at the Exchange's online community hub.