Three members of the popular American rock band, Daughtry, played a special performance at the Patch Community Club for Stuttgart community members March 17.
Lead singer Chris Daughtry, guitarist Brian Craddock and keyboardist Elvio Fernandez played a small, mostly acoustic set before an audience of service members, civilians and their families, as well as a group of students from the Patch High School music program.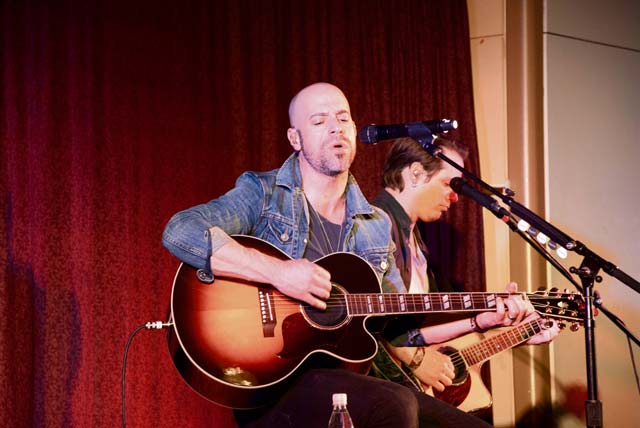 The performance came on a day off from Daughtry's European tour. The band, having played in Prague the evening prior, was scheduled to play in Böblingen the following evening. Yet they were able to carve out some time to perform for U.S. service members, whom Daughtry said were the "real Supermen," a reference to the band's latest hit single, "Waiting for Superman."
"It's supposed to be our day off, but we wanted to come do something for all of you who do so much for us," Chris Daughtry said. "What the troops do for our country, it's the least we can do to put a smile on their face."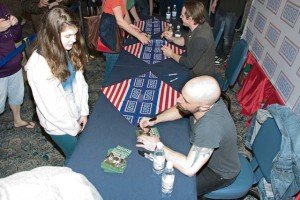 Chris Daughtry placed fourth in the fifth season of "American Idol" in 2006, earning him a recording contract from RCA Records. He then formed a band that took his last name and recorded four albums. The band's self-titled debut album went 4X platinum in 2008, and the band has been touring steadily since then.
Before the impromptu performance, which included "Waiting for Superman," the band took a few moments to answer questions from the high school students. When asked his biggest inspiration by the students, Chris Daughtry's answer came quickly.
"My family," he said. "That's what keeps me going. Being on the road a lot, we are separated from our families, but it also helps keep us grounded."
The performance was well-received by the service members, who packed into the community club for the lunchtime performance that lasted about a half an hour.
"It was amazing," said Staff Sgt. Paul Smith, with U.S. European Command Headquarters. "I had my reservations about acoustic Daughtry but it was great, and it was really good to hear him do this for the troops on his day off."
Performing for military audiences like this is always a rewarding experience, according to Daughtry, who has performed on military bases in the past.
"The gratitude [is] just incredible," he said. "It's amazing to see how much it is appreciated. It makes us feel like we are helping in some way."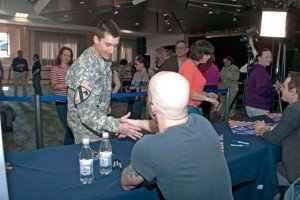 In addition to the special performance on Patch, the band also provided the United Services Organization 210 tickets to the show in Böblingen and 10 VIP tickets that included backstage access and a photo with the band. These were given out to service members and families through the USO and the American Forces Network Stuttgart.
Daughtry will continue their European tour, and have already planned a summer tour starting in June with the Goo Goo Dolls.