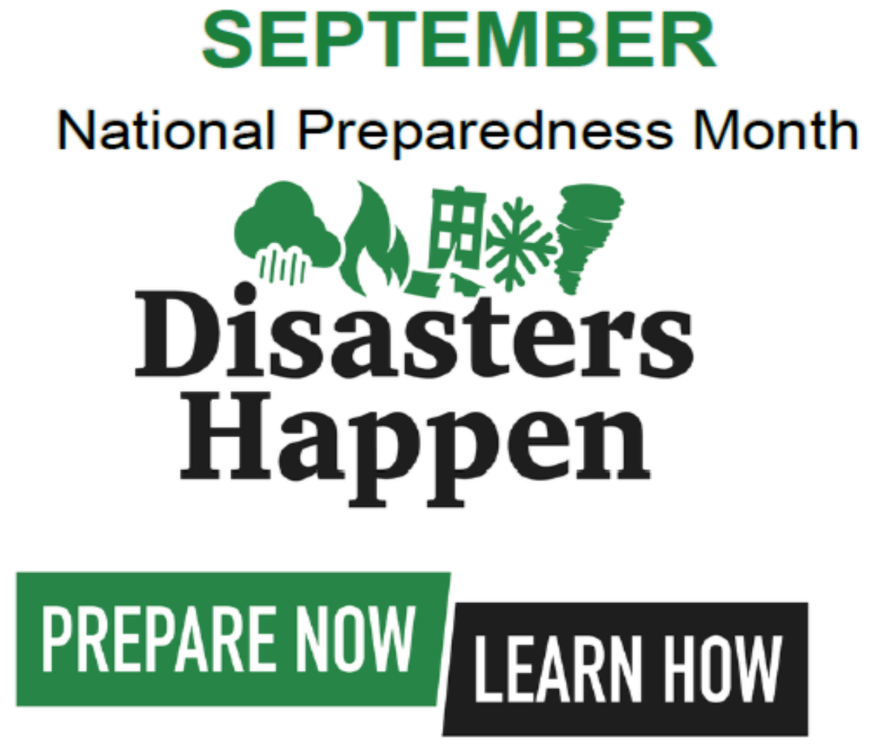 Compiled by Public Affairs
USAG Stuttgart
National Preparedness Month is recognized each September to promote family and community disaster and emergency planning now and throughout the year. The 2019 theme is "Prepared, Not Scared. Be Ready for Disasters."
Stuttgart military community members are encouraged to create an emergency plan now during this month of awareness. Your family may not be together if a disaster strikes, so it is important to know which types of disasters could affect your area. Know how you'll contact one another and reconnect if separated. Establish a family meeting place that's familiar and easy to find.
Put together a plan by discussing these four questions with your family, friends, or household to start your emergency plan:
How will I receive emergency alerts and warnings?
What is my shelter plan?
What is my evacuation route?
What is my family/household communication plan?
Practice your fire escape plan by having a home fire drill at least twice a year with everyone in the home. (More on fire safety during National Fire Prevention Week in the October issue of the Stuttgart Citizen.)
Consider specific needs in your household. As you prepare your plan, tailor your plans and supplies to your specific daily living needs and responsibilities. Discuss your needs and responsibilities and how people in the network can assist each other with communication, care of children, business, pets, or specific needs like the operation of durable medical equipment. Create your own personal network for specific areas where you need assistance.  Keep in mind some these factors when developing your plan: Different ages of members within your household; responsibilities for assisting others; locations frequented; dietary and medical needs, including prescriptions and equipment; disabilities or access and functional needs including devices and equipment; languages spoken; cultural and religious considerations; pets or service animals; and households with school-aged children.
Fill out a family emergency plan. FEMA offers templates to download and fill out a family emergency plan or use them as a guide to create your own. You can print, share or order free emergency preparedness publications and download the FEMA app for disaster resources, weather alerts and safety tips. You can also sign up for preparedness text messages by texting PREPARE to 43362 (4FEMA) to receive  preparedness tips.
Another resource, Ready.gov, offers preparedness information in 12 additional languages.
According to the Federal Reserve, 40 percent of Americans don't have $400 in savings. What will you do if there is a disaster? Are you financially prepared? How will you pay your bills if a disaster strikes?
Set aside a small amount from each paycheck to go into your savings account. Find more tips to help you manage your money to be prepared for the unexpected: https://www.usa.gov/flec. Keep some cash on hand in case of emergencies, since ATMs and credit card readers won't always be available. Cash can help pay for immediate expenses like lodging, food and gas. Learn how to make a plan at https://go.usa.gov/xPbJv or with tips and free resources at ready.gov/financial-preparedness. Start talking with your children early about money. Include kids in discussions about saving for a disaster. Get ideas for how to involve them at ready.gov/kids
Many service members and civilians working here own homes stateside. Just because you're stationed in Stuttgart now doesn't mean you shouldn't review the insurance coverage of your properties. Did you know it takes an average of 30 days for most flood insurance policies to go into effect? Don't wait until it's too late! Most homeowners' and renters' insurance does not cover flood damage. Learn more about flood insurance and how to protect your home or business at FloodSmart.gov.
What important documents should you have for an emergency? Download the Emergency Financial First Aid Kit, which will walk you through the planning process: https://go.usa.gov/xypkQ. Snap photos of important documents and personal belongings to help you quickly file an insurance claim after a flood. https://youtu.be/i3MfRpND5gk.