By Elizabeth Celtrick
U.S. Army Garrison Stuttgart
Balcony gardening has brought a sense of purpose and relaxation for some community members during the tedium of lockdown and quarantine.
Luckily for those living in garrison housing, it doesn't require a sprawling backyard to create a successful garden. Most plants found in a typical garden plot can be easily grown in a pot, on a balcony or even in a window box.
Tending to these little green miracles of life within close proximity to home has provided some much-needed distraction during long summer evenings and wide-open weekends.
For Brett Pound, balcony gardening offered something to do with the extra time that came along with the mid-March school closures.
"It was fun to build the garden boxes and see what we could get to grow in it," said Pound. "Not all the plants survived, but it was fun to see how the crops turned out, and I especially enjoyed eating them. I think next year we will try more snap peas, a different kind of lettuce, and herbs."
Experts agree that gardening itself is an act of resiliency and hope, because the process, however modest, encourages one to look forward to the future.
"Studies have shown that there is a link between gardening and reduction in depression and anxiety symptoms. Nature can have a huge impact on health and wellness."
"Gardening can do wonders for your wellbeing," said Employee Assistance Program Coordinator Kim Roedl, who is also a Licensed Clinical Marriage and Family Therapist. "Studies have shown that there is a link between gardening and reduction in depression and anxiety symptoms. Nature can have a huge impact on health and wellness."
For newcomers to the hobby, however, it may have come as a surprise that Germany is experiencing its third summer in a row of drought. This year's April was reported as the sunniest and third driest ever on record by the German Meteorological Service.
A dry, hot summer is no cause for complaint in Germany, especially with travel restrictions to normally sunnier destinations. However, all these container-garden veggies suddenly needed a lot of extra care.
"At first we only had to water every now and then when things felt dry," said Kaymi Kurfis, member of the Stuttgart military community living in stairwell housing. "But being on the top floor with no shade covering on our balcony, we have to water way more in this heat."
Kurfis, who has always had plants, said during the initial phases of COVID, the garden gave her something to do, as more and more things closed down. She also has come to appreciate having access to a balcony so much more, which not all on-post apartments have.
An informal survey among on-post gardeners shows peas, tomatoes, and lettuce as some of the more popular items to grow.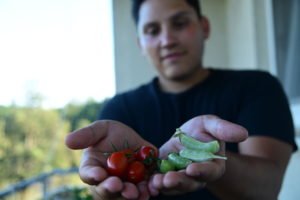 "I never realized how long it takes to produce something edible," said Petty Officer 2nd Class Sean Castellano, who grew tomatoes, peppers, potatoes, peas, and zucchini on his balcony at Robinson Barracks. "And even once they started to bloom, we had one really hot weekend in June, and they all withered up. I had to nurse them back from the brink of death."
And even after those efforts, not all of Castellano's plants survived the summer heat. He said, however, that the process has sparked an interest in gardening, and he's already making plans for what he wants to grow next year.
"It's been fun to see how the crops turned out," said Castellano. "The other night I finally had enough tomatoes to have caprese salad from my own garden and that made it all worth it."