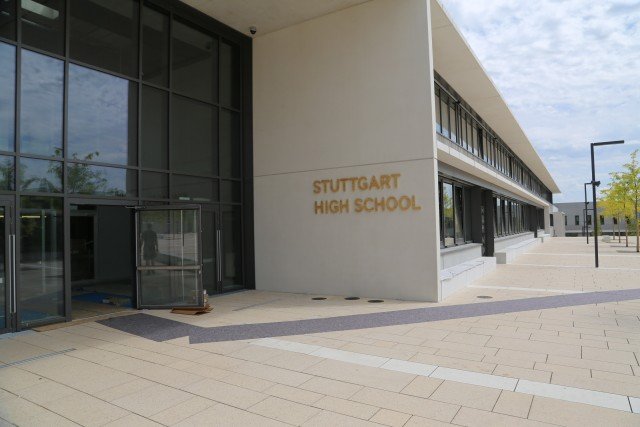 By Megan Brown
Special to The Citizen
Back to school is an exciting time for parents, students, and teachers alike. Whether it's receiving schedules, meeting new teachers, or joining a sports team, there is always something to look forward to when it comes to the first day. This year offered more anticipation than usual, due to the long awaited opening of the brand new Stuttgart schools.
Panzer Kaserne welcomed high school and elementary students with state of the art facilities, such as a Culinary Arts room, four tennis courts, a football field with a track, and an auditorium that is comprised of a stage and a sound booth. The hallways are color coated to correlate with each subject, for example the math hall is pink. The elementary school features multiple new playgrounds, and a separate cafeteria.
Michelle Gelacio, high school Senior and member of the Stuttgart community for two years said, "[I'm] excited for Friday night football games, and to be the first graduating class at the new school."
Students began their first day at seminars, a daily study hall period, while those who had not yet received their schedules received them from volunteers.
Two class meetings were held in the morning: one for Freshmen and Sophomores, and one for Juniors and Seniors. Students were greeted with thunderous applause as they stood up upon the request of administration. In the meeting, school policies and procedures were discussed, school counselors also spoke about scheduling issues, and graduation requirements. Principal Danny Robinson described how honored he is to work with "the best school in DoDDS [Department of Defense Dependents Schools]," and "the smartest kids in DoDDS."
At the start of the year, Juniors and Seniors may leave campus for lunch. While some did leave, for the most part, a lot of the students enjoyed eating on campus and in the courtyards outside.
After lunch, students attended all seven of their scheduled classes for 20 minutes each. This boldly packed schedule allowed students to get acquainted with their teacher's policies, and see the course outlines.
Despite the hectic weeks leading up to the first day of the new school and a few expected minor issues teachers and students ran into while settling in, such as a water fountain or light switch not working properly, overall, school opened smoothly and without a hitch.
The day ended with the teachers rushing out of the school as the fire alarm sounded. It was only burnt popcorn, but it was still a great way to test how the system worked, and a good way to end the first day of the 2015-2016 school year.
I expect that everyone will settle in nicely to the Panthers and Stallions new home.
Editor's Note: Megan Brown is a Stuttgart High School career practicum intern for the USAG Stuttgart Public Affairs Office.