By Capt. Catherine Vollertsen
USAG Stuttgart Law Center
You must check your financial accounts and credit reports often for signs of identity theft. If not caught near the time of expenditure, the consequences of identity theft can be far-reaching and have a long-term negative impact on your finances.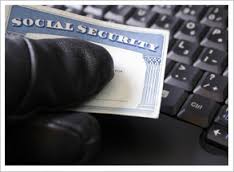 If you believe your accounts have been compromised and you are the victim of identity theft, there are steps you can take to minimize the damage. First, make an identity theft report through www.identitytheft.gov. Review your credit reports. Contact at least one of the three credit reporting agencies: Equifax, Experian, or TransUnion to create a fraud alert. After filing the identity theft and fraud reports, request an extended fraud alert on your credit through the Federal Trade Commission's consumer website. These alerts will also help prevent an identify thief from opening any more accounts in your name.
If you can, make a police report, do so. Some companies may request this in order to verify your claim of fraud. If the police do not want to write a report, ask them to file a "Miscellaneous Incidents" report. Consult your state's Attorney General's website for more information.
You must report any fraudulent transactions to the bank or financial institution where the fraud occurred. The institution will help you close the account and open new one with a different account number. They will also assist you to dispute the fraudulent transactions. Many institutions have timelines for reporting fraudulent transactions. If reports of fraud are not made within these timelines, the institution will not reimburse your stolen funds.
If your personal information has been lost or stolen, there are some preliminary steps you can take to prevent your information from being misused. These steps include closing the accounts which you believe were compromised, placing initial fraud alerts through the three credit reporting agencies, and watching for other signs that your information is being misused.
To preemptively limit the opportunities thieves have to use compromised data. Military members may place active duty alerts on their credit reports by contacting one of the three credit reporting agencies. This requires businesses to verify your identity before issuing any credit. To remove this alert, you must provide proof of your identity including your social security number, name, and address. Alerts last for one year, unless removed. A personal representative may place or remove these alerts for you.
Identity thieves have become more creative and use less intrusive means to gather and misuse your data. You must be constantly on the lookout for signs of fraud in order to protect our financial interests. If you believe you have been the victim of identity theft and need assistance, make an appointment with a Legal Assistance attorney at the Stuttgart Law Center.
This article is not meant to serve as legal advice, if you have specific question on this topic please contact the Stuttgart Law Center at DSN: 421-4152/civ. 0711-729-4152.