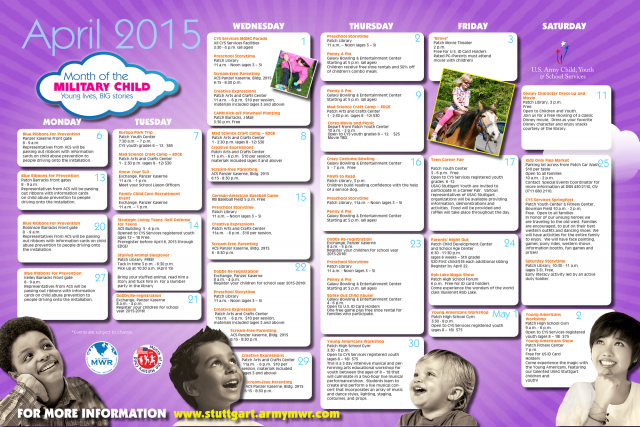 U.S. Army Family and Morale, Welfare and Recreation
April is Month of the Military Child.
From deployments to new schools, military children are faced with unique challenges that ordinary youth their age never experience.Their ability to adapt to present and future changes deserves our respect and admiration.
In an effort to recognize the hard work and to applaud the courage of military children, the Department of Defense has deemed April as the Month of the Military Child. It is a time to honor military youth for the important role they play in contributing to the strength of the military family.
The month also reaffirms DoD's commitment to ensuring excellence in schools, child care and youth services as well as, providing a strong supportive environment where children can thrive.
This year's theme, "Their Lives, Their Stories" highlights the unique lifestyles, contributions and sacrifices military children make to our nation. Throughout the month of April, U.S. Army Garrison Stuttgart will hold a variety of fun and exciting events to officially recognize the resilience of our military children.
To find out more about Stuttgart's activities and a special Month of the Military Child contest, visit here.