By Rebecca Castellano U.S. Army Garrison Stuttgart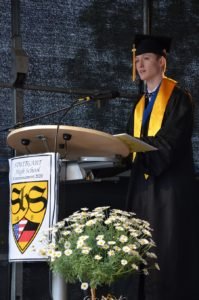 Last fall, Stuttgart High School seniors joined together on the football field to have breakfast to watch the first rays of light break the horizon.
Their goal for the class of 2020 was metaphorical: and watch the sunrise at the start of their final year in high school, with hopes to close their graduation year this May by watching a sunset, said Amanda Burkman, a SHS teacher and the senior class sponsor.
That was before COVID-19 changed their year drastically.
"We watched as it was announced that the school year was basically over," said Burkman. "And I'll be honest, we kind of lost hope."
As coronavirus cases rose into the thousands around Germany, schools on and off post were forced to close their doors. That also meant cancelling all events, like prom and Spring sports, features of graduation year that often make memories for seniors.
The news devastated two seniors, twins Gabrielle and Jordan McCullough, who were headed into their first season of running track together, according to their mother, Lavonda McCullough.
"This was a big deal for them because there's always been an injury or health issue in the way for one of them," she said. "This was the first and last chance they had to run together before heading off to separate colleges in the fall."
As the McCullough twins' new cleats sit in boxes, unworn, they remained resilient and uplifted. It took a few weeks, but they realized that prom is not as important as the lives being lost to COVID-19, she said.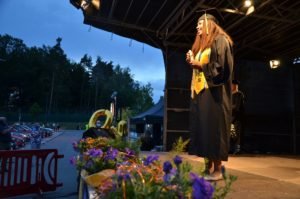 On June 3, students received their diplomas during a socially distant ceremony in the school parking lot on Panzer Kaserne. The event was projected on large LED screen and broadcast on AFN radio as family members watched safely from their car. Parents wearing masks were allowed to leave their vehicle and approach the stage to take pictures when their child was announced. Burkman said the planning and approval process took months of work.
"It's been hours of tireless online preparation, live meets, emails, Facebook posts, and phone calls," said Burkman, who was overwhelmed with community support for the massive project. "We needed screens and a stage, a way to broadcast so everyone could hear from their vehicles and at the last minute we needed generators to power it all. There was so much that went into this and so many people and organizations within our community who stepped up and made it happen."
Although the senior class is missing many traditional milestones, the memories they are making are much more unique, Burkman said.
"We have so many parents, teachers, schools, and organizations coming together to seriously spoil our seniors," said Burkman. "We switched to Facebook Lives, and we started a TikTok to keep them laughing and to remind them that we haven't forgotten them. While it may not be traditional, they are getting things that are far more personalized and special."
As Burkman shifted events like the senior sunset to a virtual platform, she worked tirelessly with others to make sure graduation would still be in-person.
"COVID has devastated their senior year," said Burkman. "They don't get to sign year books or even hug goodbye. But walking across a graduation stage is their first real threshold to independence and a rite of passage. It's a critical point in time for them."
The efforts have not been wasted, according to Senior Class President Charles Sheffield. He said that while COVID-19 taught his class that life is unpredictable, it also reminded them that they can overcome any-thing with support and teamwork.
"I think many of us would have treated our last day of school differently if we knew we wouldn't walk the halls again," said Sheffield, who wishes he could have said more to teachers and friends who motivated him along the way. "But thanks to our senior class sponsors and many more, this graduation gave us a chance to celebrate and be together one last time. Even if it was six feet apart, it was a historic night."