Army Community Service
U.S. Army Garrison Stuttgart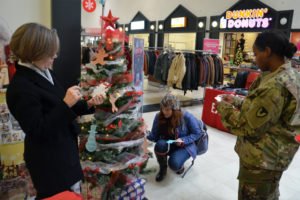 Along with joy, this time of year can also bring stress to families, especially if they are experiencing financial hardship.
Operation Angel Tree gives the Stuttgart military community an opportunity to highlight "I'm glad I live here" by lending a helping hand to those families needing assistance in providing gifts for their children.
Operation Angel Tree wish lists are on display in front of the Panzer Exchange mall from Nov. 20 to Dec. 11. Anyone can select a wish card–noting age, size, and wishe–from the tree and shop for the item.
Wrapped gifts need to be turned in at the Army Community Service offices or at the AAFES Exchange customer service counter by the close of business on Friday, Dec. 11.
Unit POC's are asked to pick up gifts for their receiving families at ACS by Dec. 18th so gifts can be distributed to the families in time for their holiday celebration.
Contact angeltreestuttgart@gmail.com or call 596-3362 or 09641-70-596-3362 for more information.