By Irida Siebentritt
Special to the Citizen
Members of the Stuttgart Theatre Center earned 15 nominations and brought home eight awards during the 2015 Tournament of Plays, or Topper, Awards ceremony held April 25 at U.S. Army Garrison Rheinland-Pfalz's Armstrong Club, The annual Installation Management Command-Europe award program recognizes the work and achievement of U.S. military theater participants. The Stuttgart Theatre Center's production of the musical "Working" was nominated in 11 categories and won for best musical and best ensemble for a musical.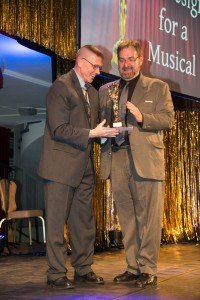 "The Best Ensemble in a Musical Award is something I am very proud of," said Richard Roberts, the theater center's artistic director.
"It means that the entire cast worked together, supporting each other. For this show that was an achievement for them, since the show is composed primarily of solo songs and monologues," he said. Roberts won for best set design for a musical.
Bryan Mitchell, an active duty Army reservist with U.S. Africa Command, won in the Best Male Military Performance in a Musical category for the role of Tom Patrick, a fireman, in "Working."
Within one month of arriving in Stuttgart, Mitchell landed the role.
With four years of community theater experience, Mitchell loves what he calls the "art of storytelling" because "… you get to make someone else's story your own. When the story is so gripping, everyone is quiet and fully engrossed. And that's when magic happens," he said.
Like Roberts, Mitchell shares the same thoughts about teamwork. "What makes theater more than simply acting and entertaining are the bonds that we form with the other actors," he said.
"Her Stories," nominated for best play, is based on the book of the same title by Virginia Hamilton. The collection of African and Caribbean folk tales was so rich in content that Holloway, a Marine spouse, writer and director, was inspired to turn it into a play.
The two-act play was performed at the Kelley Theatre during U.S. Army Garrison Stuttgart's observation of Black History Month in February.
Initially, the play contained no music elements. Holloway came up with the idea of adding original music to it. She approached Christopher Mazen, a local choir director, and together they worked on creating three songs for the play.
Holloway and Mazen received special Judges' Choice Topper awards for their efforts.
Alan Buxkemper, the Stuttgart Entertainment Branch director, worked on both award-winning productions, as the musical director for "Working" and as sound designer for "Her Stories."
Buxkemper, who has been with the Family and Morale, Welfare and Recreation program since 1989 won Topper awards for best instrumentalist ("Working") and best sound design for a play ("Her Stories").
While winning may be gratifying, building a community is the goal, according to Buxkemper.
"The staff here is not about winning awards. We are here to provide an outlet for talented community members to be involved in a program where they can grow as performers, meet people with common interests, and come together … to offer a part of American culture … where English-speaking theater is hard to find."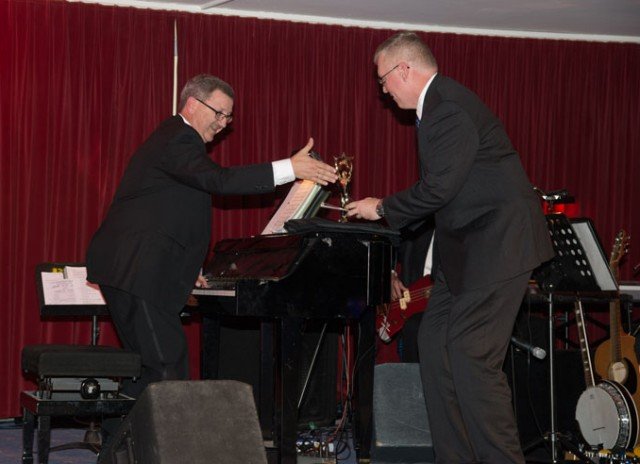 Topper Nominations
Stuttgart Theatre Center
Best Play
"Her Stories"
Best Ensemble for a Play
"Her Stories"
Best Actor in a Featured Role in a Play
Jevon Johnson
Best Debut Performance in a Play
Darian Buchannon Mathis
Best Costume Design for a Musical
Robin Baker
Best Supporting Actress in a Musical
Nicole Soren
Best Actor in a Musical
Martin Jelonek
Best Military Actor in a Musical
Bryan Mitchell
Best Orchestra or Musical Accompaniment
"Working: A Musical"
Band Members: Steffen Muenster, Felix Loewy, Greg Basgall, Alan Buxkemper
Best Instrumentalist
Steffen Muenster
Best Instrumentalist
Felix Loewy
Best Lighting Design for a Musical
Holger Schröder
Best Director of a Musical
Richard Roberts
Best Set Design for a Musical
Richard Roberts
Best Sound Design for a Musical
Alan Buxkemper
Best Musical Director
Alan Buxkemper