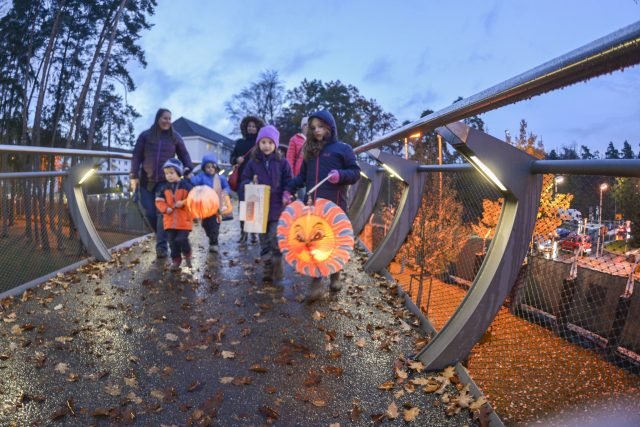 By Holly DeCarlo-White
USAG Stuttgart Public Affairs Office
In Germany, lantern parades are an annual tradition around November 11 to honor Bishop Saint Martin of Tours, the patron saint of charity for Saint Martin's Day.
U.S. Army Garrison Stuttgart also participates in this celebration on-post with community lantern walks. This year's walks will be led by community members of Robinson Barracks Nov. 13, and German Teacher Sandra Butsch-Schill on Panzer Kaserne and Patch and Kelley Barracks, Nov. 16, 17 and 18 respectively.
According to Schill, the history of the holiday and the legend behind Saint Martin's Day is as follows: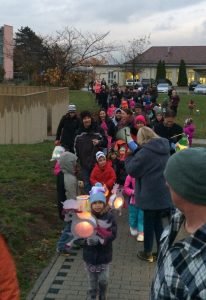 Saint Martin was born in 316 AD and became a very wealthy Roman Soldier. Although he was wealthy, he was very humble and gracious too. The legend says that Martin gave half of his cloak to a poor beggar on a cold winter night, saving his life. In turn, because of his generosity, the Pope wanted to make him a saint, which Martin, being so humble, did not want to become. So, he hid in a barn so that no one could find him. The issue was, the barn was filled with loud screaming geese. He was found not too long after hiding due to the loud chattering of the geese. This is the reason adults eat a goose on Saint Martin's Day, preparing a huge festive meal typically accompanied by dumplings, with red cabbage, and gravy.
"German children go lantern walking to show respect for Saint Martin and his good deeds. Usually on Nov. 11, large parades are held for Saint Martin who comes riding in on his horse," Schill said.
The Stuttgart Family and Morale Welfare and Recreations SKIES (School of Knowledge, Inspiration, Exploration and Skills) German teacher has been volunteering to host the lantern walks for American children and families on each installation for over a decade giving them an opportunity to experience a German holiday tradition first-hand. Children learn the lyrics and the meaning of the German songs sung while walking through the community, and everyone brings their own lanterns. Many crafty students make their own lanterns out of household items such as milk cartons, though patrons can also find lanterns in stores on the economy before the holiday.
To learn more about German language classes offered within USAG Stuttgart, contact the following offices for adult and children's classes:
• SKIES Parent Central Services or online via webtrac
• Army Community Service
• USO Stuttgart, email programs.stuttgart@uso.org
To learn more about events off-post visit the Culture Events Calendar.
2017 Lantern Walks
Robinson Barracks Nov. 13: Celebrate the opening of the new community space, RB Zentrum at 4:30 p.m., followed by a community lantern walk beginning at 5 p.m. Meet at Building 168. Questions? Email: rbzentrum168@gmail.com.
Panzer Kaserne Nov. 16: Meet at the School Aged Center (SAS) Basketball Court Building 3163, on Panzer Kaserne at 5 p.m. with your lantern.
Patch Barracks Nov. 17: Meet at The Hub Youth Center, Building 2337, on Patch Barracks at 5 p.m. with your lantern.
Kelley Barracks Nov. 18: Meet at the Child Development Center (CDC Annex) Building 3352, on Kelley Barracks at 5 p.m. with your lantern.