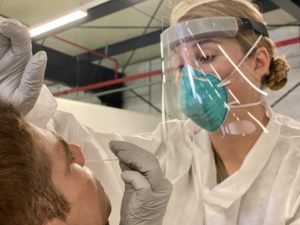 USAG Stuttgart Public Affairs
(Current as of Oct. 27, 2020)
Due to recent positive cases and contact tracing, some community services have been impacted. They include the following:
Service Credit Union, Patch and Panzer, closed for 14 days
SATO offices at both Patch and Kelley have begun servicing customers only via the phone or email
Java Express, Swabian Special events center and Patch community club, closed until further notice
Housing Services Office staff is working remotely, but can be contacted via phone and email
Housing (Off Post) Services, Pervin Estates LLC, has reduced property viewings to
zones that have not declared red due to increased COVID19 infections
Panzer Burger king now open M-S, 8 a.m. to 4 p.m. Sunday 9 a.m. to 4 p.m.
Worship services are reduced attendees to 25
Vet Clinic:

reverting back to *curbside service only* ALL services will be done at the window or in the parking lot. Surgeries/dentals will be postponed again until further notice.
For current information and changes, visit StuttgartCitizen.com COVID-19 page.