In partnership with U.S. Army Garrison Stuttgart Family and Morale, Welfare and Recreation (MWR), the United Service Organizations (USO) are hosting a 7.5 mile run to celebrate 75 years, April 23 from 9 a.m. to noon at the Parade Field on Panzer Kaserne and routes through Böblingen trails. The trail is pet and stroller friendly.
Participants can take part in refreshments, prizes, and giveaways from the USO after the race.
All ID cardholders are invited to attend and participate. Pre-registration begins March 31 at the USO, the first 100 to register receive a free t-shirt upon check in on race day.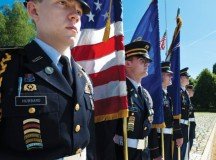 The Junior Reserve Officer Training Corps (JROTC) is also celebrating their 100th Anniversary with a 5k Color Run, April 23. The run begins just after the USO's run at 9:15 a.m. in the same starting position, at the Parade Field on Panzer Kaserne.
Both races are free and same-day registration is available. Bib pick up and registration begins on race day at 8 a.m. in the Panzer Fitness Center.
For more information, contact or visit the USO Center, Building 2915 Panzer Kaserne, DSN: 431-3345/civ. 07031-15-3345 or email: programs.stuttgart@uso.org.
For more about the JROTC run, contact DSN: 431-4000/5600.