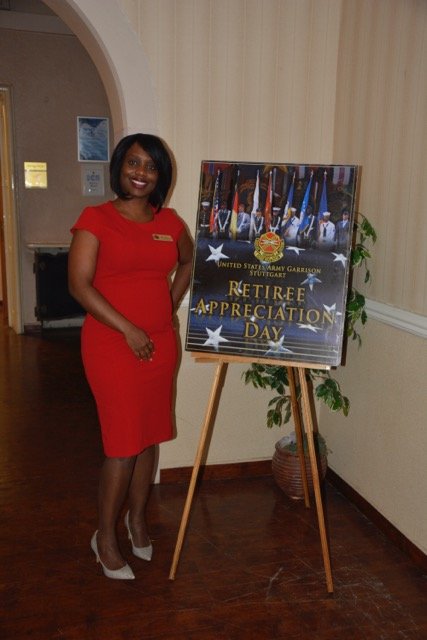 Public Affairs
USAG Stuttgart
The 12th annual USAG Stuttgart Retiree Appreciation Day will take place at the  Swabian Special Events Center, Patch Barracks, 9 a.m.–2 p.m., Oct. 17.
The event is free and open to military retirees of all branches, whether active duty or reserve; their family members; widows or widowers; and other surviving family members.
The annual event features guest speakers, medical services will include flu shots and other vaccinations, diet counseling, eye exams, medical screening, blood-pressure screening, blood-sugar testing, and pharmacy information. Ophthalmology services may also be offered, depending on personnel availability. Dental services will provide retirees only with oral hygiene information and exams.
Representatives of the following services will attend:
Giveaways at by the Exchange and other agencies
ID cards office will give priority to retirees
Appointments can be made at the SSEC and interested retirees seen for exams and cleanings at the Panzer Dental Clinic that afternoon, noon to 2 p.m.
Federal Benefits Unit and staff  from the U.S. Consulate will be on site to provide information and answer questions
Religious Support Office, Customs, American Red Cross, Army Community Service, ID-card office, Passport and SOFA office, Installation Access Control System, , legal office, local associations, the USO, AAFES, and Service Credit Union.
Representatives for Social Security Administration and Veterans Administration information may also be in attendance in addition to representatives from the Veterans of Foreign Wars and USAA. Providers from more than 20 agencies will man booths, offer literature and answer questions.
Doors open at 8 a.m. for registration. Complimentary refreshments, finger foods and cake will be served. For gate access questions, participants should call or visit IACS in Bldg. 2915, Panzer Kaserne, with any questions or concerns, or call 07031-15-2872/2889.
For more information on Retiree Appreciation Day or services, contact the Casualty/Retiree Services Program Manager, Bldg. 2915, Rm. 307, Panzer Kaserne, or call  431-3673 or 07031-15-3673