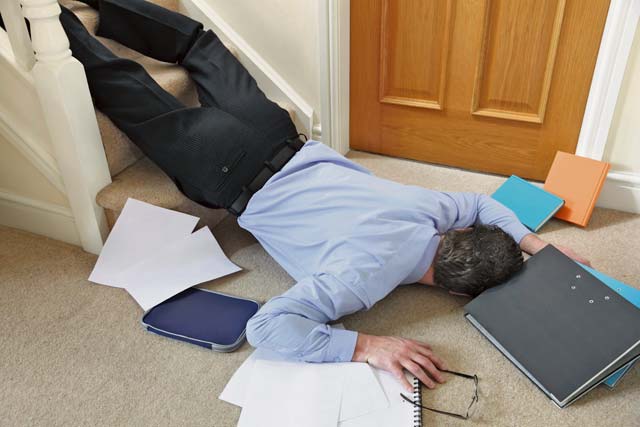 Slips, trips and falls are often portrayed with a comical theme in cartoons and movies. However, in the real world, slips, trips and falls are one of the leading causes of accidents in the workplace. These mishaps can lead to painful injuries for the worker and millions of dollars in lost workdays and worker's compensation claims.
Nearly all accidents resulting from a slip, trip or fall in the workplace can be prevented if every employee will follow some simple guidelines:
• Always wear shoes that have slip resistant soles. Smooth soles will surely increase your risk of slipping and falling.
• When required, wear approved safety (steel-toed) shoes or boots.
• HOUSEKEEPING is critical in preventing slips, trips and falls in the workplace. Keep floors free of dirt and debris at all times and attend to spills or leaks immediately.
Keep walkways and aisles free and unobstructed at all times. A minimum width of 28" should be maintained for all walkways unless they are leading to or through an exit, then it must be 36".
• Never step on/over loose paper, cardboard, or any material that is placed haphazardly on floors.
• Look out for tripping hazards such as changes in floor surfaces (uneven floor joints, flooring to carpet, damaged carpet or flooring, and power cords).
• Use extra caution when walking up/down stairs and ramps. Always use the handrails when they are provided!
• Never carry loads, which block your vision of the floor in front of you.
• Never run or engage in horseplay at work.
• Always keep your file cabinet and desk drawers closed.
• Pay attention to what you are doing and where you are going. Don't allow yourself to get distracted.
• Report damaged flooring immediately to your supervisor or by calling the DPW @ 421-6200.
• Barricade unsafe areas using cones or caution tape to prevent others from entering.
• During inclement weather, pay special attention to the flooring inside doors, as rain, mud, sand may get tracked into the building and create a slipping hazard.