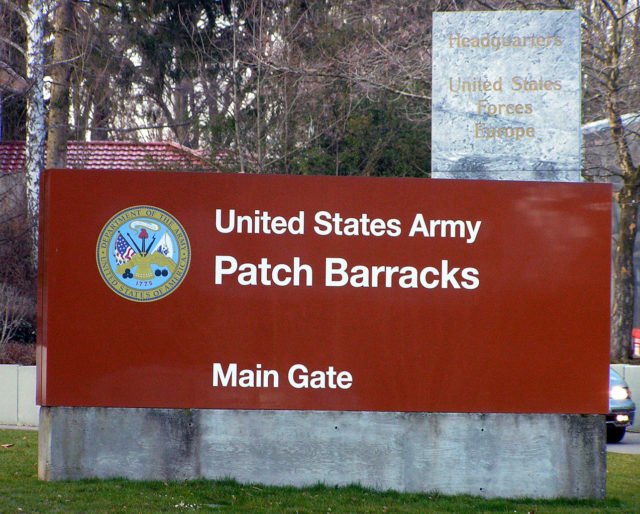 Public Affairs
USAG Stuttgart
UPDATE, Jan. 3, 2020: The first phase of heating line construction on Montana Street, Patch Barracks, begins with changes to traffic and bus stops, Jan. 7. Traffic will be reduced to one lane and regulated by a temporary traffic
light system installed by the contractor. The bus stops will be moved to next to Bldg. 2537 and the corner of Arkansas and Montana streets.

***
UPDATE, Dec. 23, 2019: This is an overhead view of the road work location for DPW's upcoming work, Jan. 8–13.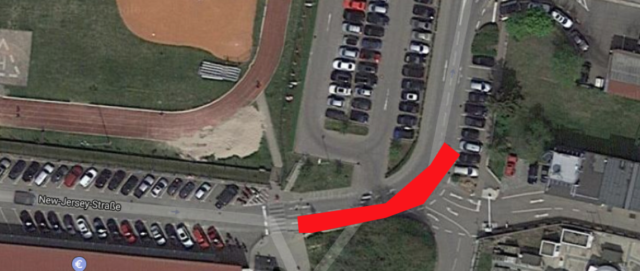 The portion of New Jersey Strasse from the eastern edge the Java Cafe to the car wash, possibly closing the right lane of the road, but traffic will be able to pass through.
The work requires cutting through the pavement, digging down and backfilling the area.  DPW says it will return the area as near as possible to its original condition.
***
UPDATE, Dec. 12, 2019: DPW advises that parking area between Bldg. 2301 and buildings 2368, 2375 and 2383 are needed for excavation work, beginning Jan. 9. Traffic and blocking the parking spots will be organized on site by the contractor the prior week.
***
UPDATE, Nov. 6, 2019: DPW advises that due to construction of the new waterline for the library, Bldg. 2343, Ohio street will be partially blocked, halfway, Nov. 18 November – 22.
Additionally, the first two parking spots in front of the library will be blocked during this timeframe as well.
During the second phase of this project, the old water line to the library will be cut; three parking spots along Ohio street at the Level6 container will be blocked Nov. 25 – 29 November 2019.

DPW reminds the community that during construction unforeseen situation can cause delays.
***
UPDATE, Oct. 24, 2019: A contractor began using three parking spaces at the SE corner of Bldg. 2319 for material staging, Oct. 21, and expects to use the spaces for three weeks.
Montanastrasse is already blocking 17 barracks parking spaces at the SE end of Bldg. 2309, and will use another six parking spaces on Montana street south of 2309 starting Nov. 4. This is a long-term project expected to last 15 months.
Another contractor team will use six parking space south of Bldg. 2308, Nov. 11.
Ten parking spaces NE of Bldg. 2333 will be used for storage starting Nov. 7. That contractor will also start reuse of small ballfield west of Bldg. 2337 starting Oct. 28.
The Directorate of Public Works advises that the contractors' construction schedules will adjust work areas and impact based on their submission and progress. DPW's Engineering Division will provide weekly updates on the projects above.
Lastly, beginning Nov. 4, two reserved parking spaces at Bldg. 2303 will be used for four months.
***
The renovation project at Patch Barracks' Bldg. 2312 will see a trench dug for cables between buildings 2312 and 2360. One lane of Ohio Strasse and access to parking at Bldg. 2313 will be temporary blocked off, beginning Oct. 28. Around Oct. 30-31, the closed lane will be switched to the other side.
The contractor will place heavy metal plates so that there will be no impact on the traffic flow. School busses are not expected to use this part of road. The project is expected to be concluded by Nov. 8. Planned dates may change due to unforeseen site conditions.
***
If you work  on Patch Barracks, make a note that during the week of Oct. 15-20, there will be extensive construction in the area between buildings 2315 and 2316.
Workers will be breaking through the pavement and digging to access utilities below. Planners said the area will be returned as best as possible to its original conditions. Because of the location, the impact won't be significant to drivers as it might be to pedestrians, planners said. Once completed, there will be improved communications and network for EUCOM users.