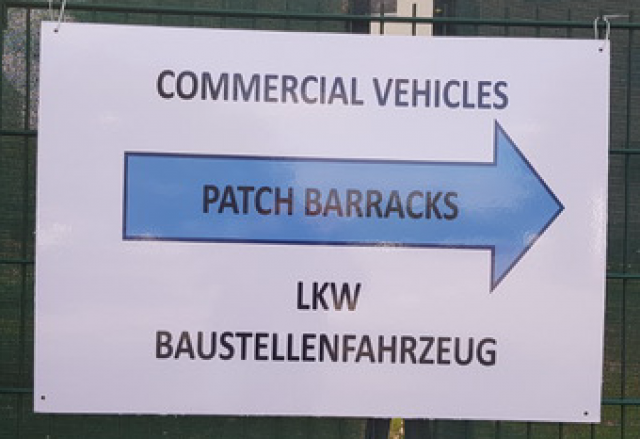 UPDATE, Oct. 4, 2019: Drivers entering Patch should notice a change to the on-post traffic flow, as a dedicated POV lane opens at the K&K gate, that is used primarily now for commercial vehicles.
This measure should alleviate backups and will accommodate an upcoming Montanastraße construction project.
•••
Commercial traffic, to include construction vehicles and delivery trucks, will now use the K & K gate to enter Patch Barracks. Community members personally-owned vehicles should use the Patch main gate for entry and exit. Pedestrians and bicyclists may register to use the automated pedestrian gate near the K&K gate or use main gate walkway.
During morning commuting hours, starting at 6 a.m., drivers may use the K&K gate. However, POVs must wait during security checks on commercial vehicles. Both school and duty busses will use the main gate. On weekday afternoons, the K&K gate will be open for outbound POV traffic from 4:30 to 6 p.m., then closed overnight. The gate name is a shortened version of Kurmärker Kaserne, the German name for Patch Barracks until 1952, when the Army renamed the post after Gen. Alexander Patch.