Directorate of Public Works Installation Coordinators
Garbage on-post is everyone's business. We all generate it, handle it, and pay to dispose of it.
At the local trash island, community members are reminded to sort their recyclable materials from the normal trash, and place them in the proper containers as specified.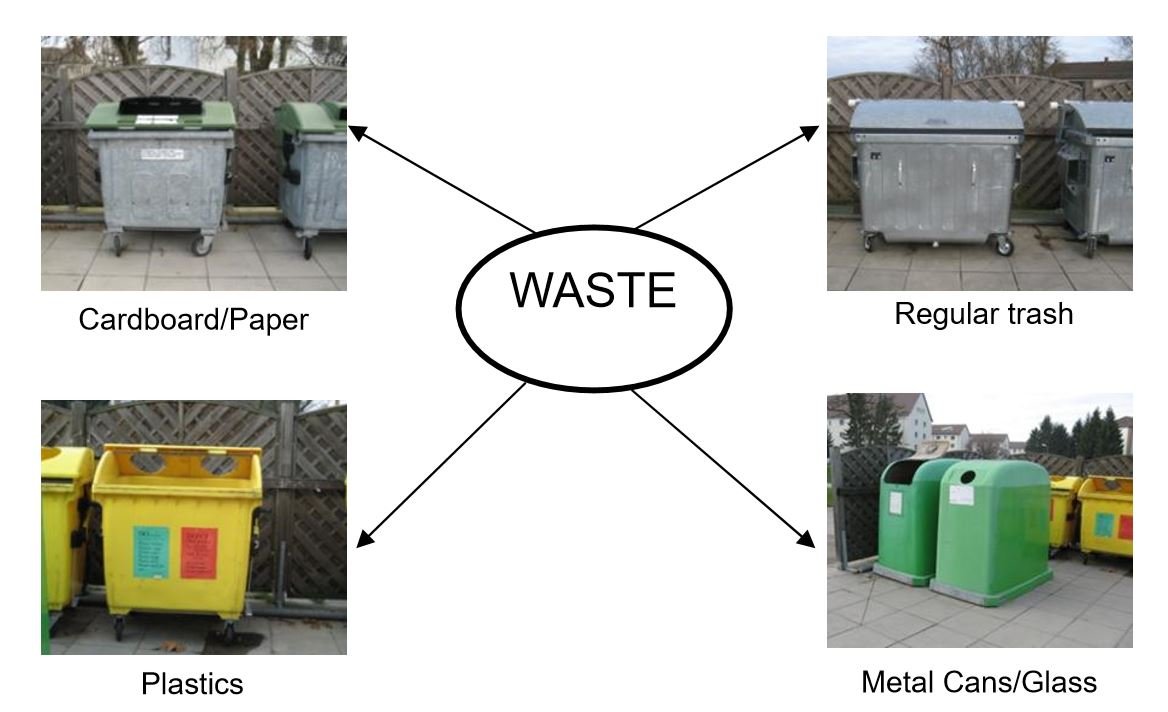 Place only household waste in the large regular trash containers.
Materials/Appliances:
Small material such as small parts of metal, wood, electrical appliances (toasters, irons, fans), and electronic devices are not to be placed in the regular trash containers. Those items should be taken to the recycling locations on each installation, or placed to the sides of the containers inside of the trash islands.
Bulk/Furniture/Bicycles:
Contact the Installation Coordinator Office or Refuse and Recycling Branch at 420 -7343 or 0711-819-7343 to arrange curb site pick up for large bulky material such as mattress, furniture, or bicycles.
To contact the Installation Coordinators, call:
Patch Barracks: 430-5450/0711-680-5450
Kelley Barracks & SAAF: 421-6280/0711-680-6280 and 430-5450/0711-680-5450
Panzer Kaserne: 431-2806/07031-15-2806
Robinson Barracks: 420-6033/0711-819-6033
Housing Office: 431-2346/07031-15-2346
DPW Environmental contacts: 421-6131/6135.
Plastics:
Small plastic items such as plastic bottles, plastic pipes, plastic benches, shopping bags, plastic toys etc. should be placed in the designated plastic containers.
Larger plastic items can be placed to the side of the containers inside of the trash islands.
Cleaning Supplies/Batteries/Hazardous Waste:
Kitchen cleaning items, such as oven or glass cleaning, sprays paint, motor oil, car batteries etc. should be taken to the installation hazardous waste cages on each installation. Items that are in good-use, can be donated to the re-use center on Panzer Kaserne for fellow community members to use, free.
The Reuse Center is located in Building 2958 on Panzer Kaserne, opposite the Panzer Commissary. Hours of operation are Monday through Friday from 7:30 a.m. to 4 p.m. For more information, call 431-2071 or 07031-15-2071 and or the Chief of Supply and Services (Installation Supply Officer) at 431-3413 or 07031-15-3413.
Glass & Metal Cans Only:
Place only glass and metal cans into the containers labeled with "Glass & Metal Cans." Do not toss these item into the regular trash containers.
Paper:
When disposing of shredded paper, empty only the shredded paper into the paper container without the plastic bag.
USAG Stuttgart's Installation Coordinators are available to answer questions about sorting and recycling to keep our military community safe and clean. IC's urge community members to participate and recycle to save money and the environment. Learn more about recycling and download the On-Post Recycling Guide here.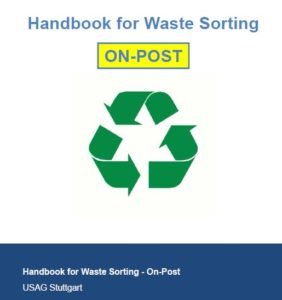 Patch Thrift Shop Donations – Donations to the SCSC Thrift Shop must be dropped off during operation hours. Call ahead to schedule an appointment for bulk furniture donations. Call 0711-680-5510.
Stuttgart Community Flea Markets – All community flea markets are held on Saturdays from 10 a.m. – 2 p.m., and are open to all DOD ID cardholders.