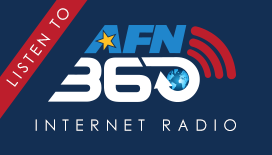 U.S. Army Garrison Stuttgart community members are invited to submit nominations for the next AFN Stuttgart Superstar of the Month. Help recognize an exceptional member of your unit, organization, or overall within the Stuttgart military community.
To nominate a community member, email: AFNStuttgartonline@gmail.com
Details to include: Name, unit or organization (if applicable) and why you think this person is a Superstar.
Submission deadline: open/rolling
October and November 2015 AFN Stuttgart Superstars
November: SGT Samuel Scarborough, 554th MP Company
October: Kristine Bell, Army Community Service
September: 1st Sgt. Amador Aguillen, Headquarters and Headquarters Company
Winners are announced on AFN Radio live. For information on AFN Stuttgart, AFN 360 internet radio, visit: www.afneurope.net/Stations/Stuttgart.aspx.