by Megan Finely
AdvantiPro contributing writer
Black Bean and Corn Salad
Ingredients:
Two 15-ounce cans black beans,     rinsed and drained
1 1/2 cups corn or hominy
2 red bell peppers, diced
2 cloves garlic, minced
1 bundle of green onion, chopped
2 tomatoes, chopped
2 teaspoons salt
9 tablespoons extra-virgin olive oil
1 teaspoon lime zest (be sure to zest      limes before juicing them)
6 tablespoons fresh lime juice
1/2 cup chopped fresh cilantro
2 avocados, chopped
Combine all ingredients in a large bowl and mix well. Serve.
Asian Style Flank Steak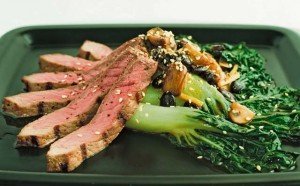 Ingredients:
1/2 cup soy sauce
3 tablespoons honey
2 tablespoons sesame oil
2 tablespoons (heaping) minced ginger
3-5 cloves minced garlic
1/2 teaspoon crushed red pepper flakes
1 whole flank steak
Marinate steak in mix overnight. Grill on preheated grill, 5 minutes on each side for medium rare. After grilling, let it rest for several minutes before slicing.
Grilled Pineapple
Ingredients:
1 fresh pineapple, peeled, cored and
cut into 1-inch rings
1/4 teaspoon honey
3 tablespoons melted butter
1 dash hot pepper sauce
salt to taste
Place pineapple in a large resealable plastic bag. Add honey, butter, hot pepper sauce and salt. Seal bag, and shake to coat evenly. Marinate for at least 30 minutes, or preferably overnight.
Preheat an outdoor grill on high heat and lightly oil grate. Grill pineapple for 2 to 3 minutes per side, or until heated through and grill marks appear.
Drunken Chicken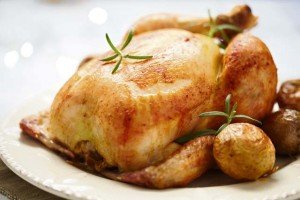 Ingredients:
One 3-pound chicken
Seasoned salt
House seasoning, recipe follows
One 12-ounce can beer
1 sprig rosemary
House Seasoning:
1 cup salt
1/4 cup black pepper
1/4 cup garlic powder
Preheat grill. Wash and drain chicken. Coat the chicken inside and out with seasoned salt and House Seasoning. Open the can of beer and carefully insert a sprig of rosemary. Then, place the beer can into the body cavity starting at the rear of the chicken.
Carefully place the chicken on the grill, standing up on can, making sure not to spill the beer. Cover the grill and cook until chicken is done, turning the chicken as necessary. The chicken is done when the juice runs clear. Serve.
Chili Lime Grilled Corn
Ingredients:
6 ears corn, in their husks
1 cup unsalted butter, at room temperature
1 tablespoon chili powder
1 teaspoon cayenne pepper
Juice of 3 limes
Salt and freshly ground black pepper
1 cup feta cheese
Heat a grill to medium-high heat. Grill the corn in their husks until the husks start to blacken, about 3
minutes per side.
Mix together the butter, chili powder, cayenne pepper, lime juice and some salt and black pepper in a bowl until incorporated.
Peel back the corn husks, leaving on to use as handles while eating. Rub the chili-lime butter all over the corn. Garnish with the feta cheese.