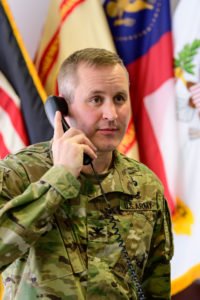 By Col. Jason Condrey
U.S. Army Garrison Stuttgart Commander
March marks one year of COVID impacts on our community that have drastically altered how we live and perform our mission. I know for many of you, this time last year, COVID-19 seemed like a faraway issue that did not threaten our way of life here. The thought that it would impact us as greatly as it has, and stick around for as long as it has, might have seemed ridiculous. But here we are, long into our second "lockdown" and searching for the light at the end of the COVID tunnel. 
I know I say this every month, but that's because I truly mean it – thank you. The manner in which this community, as a whole, has persevered through these trying times is nothing short of inspirational. There are those who continue, and will continue to critique our policies. I see them on social media and hear from them often in our town halls, and at times it seems that there is nothing I, or anyone can do other than allow them to be heard. I encourage that feedback. We are all navigating this pandemic together, and none of us have dealt with this kind of thing before. We learn and adapt every day, and it is the feedback from you, that helps adjust course as we go. 
Of course, not every suggestion can be implemented and sometimes there are factors involved that are not public. I realize that is frustrating at times so I thank you, again, for your continued trust and adherence to the policies we put in place. There are many things you probably imagined doing during your tour in Germany. I certainly hoped to attend a few more festivals before I left, and check out some historical places. I had several ideas of what it might be like to serve as your garrison commander and none of them involved telling grown adults to wash their hands, cancelling Halloween or forcing children to wear masks while playing outside.  
But nonetheless, I am thankful for the opportunity to lead such a diverse, resilient and competent community through these tough times. Your willingness to sacrifice comfort to protect others, and to go above and beyond to help those struggling, makes me proud to live here. I have no doubt that we will emerge on the other side both victorious and stronger for what we have been through together. Friendships, forged through grocery runs and virtual neighborhood parties, will add to that military family that stays with you long after you hang up the uniform or retire from service a second time. 
Travel may never be the same during your time in Europe, but the memories you make with the community around you, no matter how physically distanced or covered in masks, will outshine the brightest beach in Spain. We have come so far, and we have learned so much about what we are capable of as individuals, as neighbors and as a community, when we are put to the test. Now I ask, again, for your continued perseverance. With COVID vaccines coming into our community, and immediately being put to use, we can see the path to victory. But we aren't there yet. Wear your masks, maintain your distances and wash your hands. Stay focused, stay resilient and stay safe. If we continue to do these things, we will maintain the upper-hand over COVID-19 and we will all reach the finish line together.