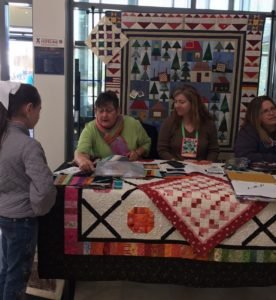 The Black Forest Quilt Guild's next meeting is March 26 at the Panzer Community Club (old fire house), near Panzer Kaserne. Doors open at 6:30 p.m. for a meet-and-greet session, the meeting begins at 7:15 p.m.
The guild will be judging entries for their Striped Fabrics Challenge and their 25th Anniversary Pin design.
A full library of quilting books is available for member check out as well. The events and meetings are open to all Stuttgart military community members, visitors are always welcome.
The Black Forest Quilt Guild is also hosting a mini-retreat on March 27-28 at 10 a.m. and close whenever people decide to go home.
What's a mini retreat?
It's a day or two for all community members, from both the local area and military community, to come together and work on their own projects.
Share a potluck lunch (light lunch food like salads and similar items) and sew together. Members and interested visitors are welcome.
For more information, visit  their Facebook page or www.blackforestquilters.de.