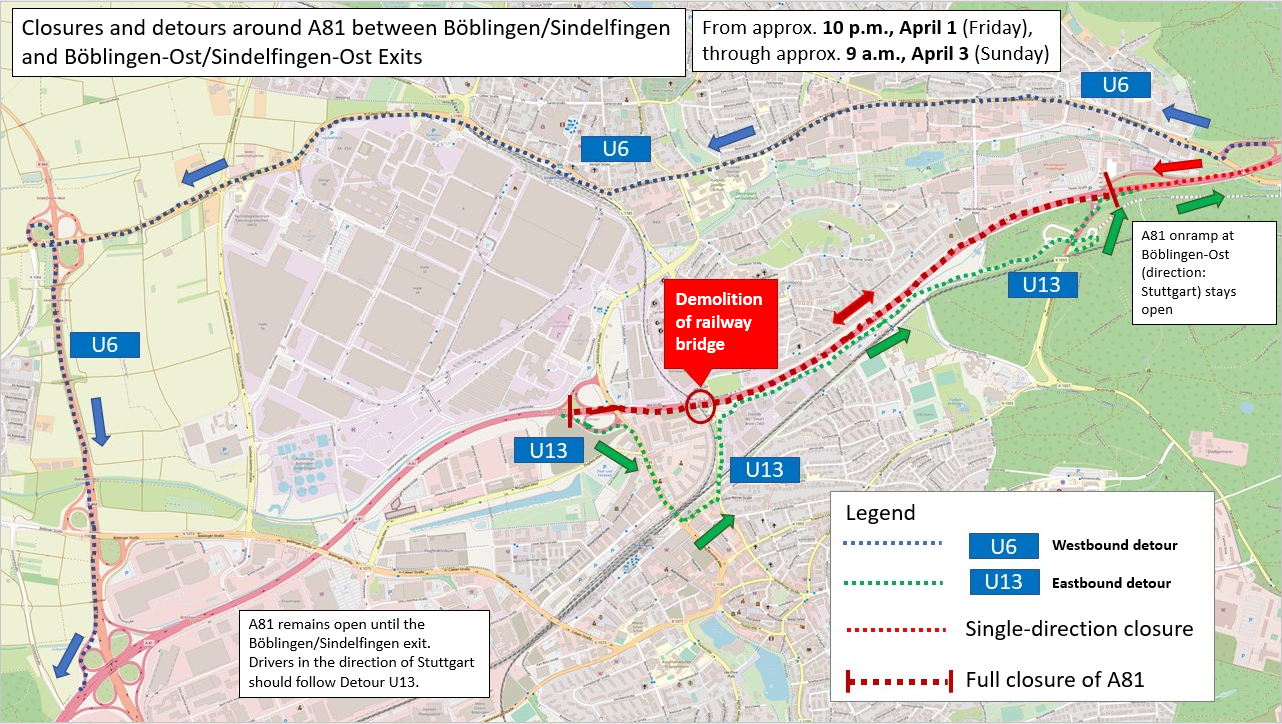 Translated Local News – March 31, 2022
This weekend, drivers in the Böblingen district will have to prepare for the complete closure of the A 81 between the Sindelfingen-Ost and Böblingen-Sindelfingen junctions. It will start on Friday, April 1, from 10 p.m. onwards. On Sunday, April 3, at around 9 a.m., the closure is to be lifted again. The reason for this is the demolition of the railroad bridge between Böblingen and Sindelfingen, which runs over the A 81. The S-Bahn line 60, which connects Böblingen with Sindelfingen and Renningen, runs there.
Closure begins on Friday at 10 p.m. and ends on Sunday at around 9 a.m. In order for the rail link for the planned widening of the A 81 to be completed by mid-2024, the old rail bridge, which is located near the "Hornbach" home improvement store, must be removed. The construction work will have significant consequences for motorists in the region: the highway will be fully closed in both directions in the area.
Two detours (U6 and U13) are planned to get around the closed section of the route. Those coming from Stuttgart will be directed off the autobahn via the U6 in Sindelfingen-Ost. Then take Neckarstraße through Sindelfingen in the direction of Calwer Straße and return to the autobahn via the B 464 at the Böblingen-Hulb junction. In the opposite direction, the U13 leads out at the A 81 exit Böblingen Sindelfingen in the direction of Böblingen. Wolfgang-Brumme-Allee could become a bottleneck at the weekend. Via Talstraße and Leibnizstraße, which runs parallel to the A 81, it goes around the construction site. At the Böblingen-Ost slip road, drivers can then continue in the direction of Stuttgart on A 81.