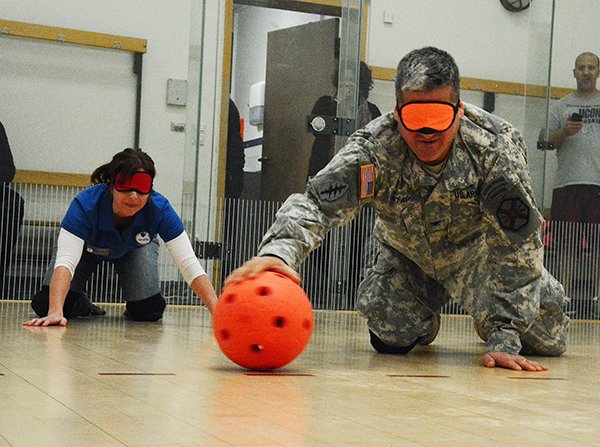 Story and photos by Greg Jones
With a carnival-style sledgehammer game, a punching bag contest and even a motorcycle simulator video game, the U.S. Army Garrison Stuttgart Resiliency Carnivals held Feb. 5 at Patch Fitness Center, Feb. 12 at Panzer Fitness Center and Feb. 19 at the Kelley Club focused on making resilience fun.
Despite the carnival atmosphere, the core of the event was all about Comprehensive Soldier and Family Fitness, according to event organizer
Martha Povich, USAG Stuttgart Family, Morale, Welfare and Recreation.
"The center of it all is the five dimensions of strength," Povich said. "Each of the activities somehow links to one of those dimensions, but we've tried
to make it fun, as well as informative, by presenting it in a carnival-style event."
Each event featured more than twenty booths that offered information about resiliency, related concepts or community resources, or some sort of
interactive game. The interactive games, which included a ball toss, various Nerf shooting games and even a motorcycle video game, earned participants raffle tickets which were then entered into drawings for a wide variety of prizes.
The carnivals also featured a number of fitness-oriented special events.
In Goal Ball, teams of two pitted against one another on a racquetball court for a blindfolded mix of handball and soccer. The goal of the game is to
get a ball (roughly the size of a soccer ball) past the opponents' defenses and into their goal. The catch: Everyone is blindfolded.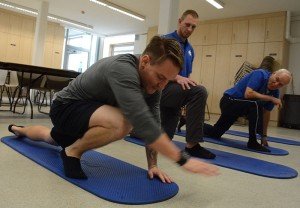 Laugh Yoga was an exercise that combined stretching with forced laughter. The stretching relaxed participants and the forced laughter eventually translated into genuine natural laughter, boosting participants' moods.
At the Panzer Fitness Center carnival, licensed athletic trainer David Grant held training sessions in a variety of injury prevention stretches, exercises and concepts. Grant has worked with professional athletes and Olympians.
Additional offerings included "calm and safe place" visualization exercises, body-fat testing, group scavenger hunts and other resiliency related activities.
The combination of fun activities and information resources made for an engaging learning environment, according to Sgt. 1st Class Vincent Horne, 1st Battalion, 10th Special Forces Group, who attended the Panzer event.
"I liked having all the different activities and booths to choose from" Horne said. "The way it was presented, Soldiers didn't have to feel bored
or intimidated by the information. It was a good atmosphere for Soldiers to come and learn."