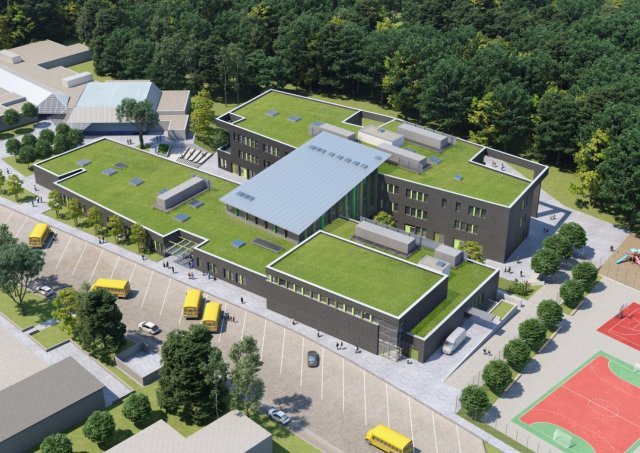 By Larry Reilly
USAG Stuttgart Public Affairs
Weathering a drizzling of rain, a dozen people gripped ceremonial shovels, dug into a mound of dirt and heaved it into the air, officially starting the construction of a new elementary school on Patch Barracks, March 1.
The dirt heavers were members of the Department of Defense Education Activity, the garrison, the Army Corps of Engineers and the Bauamt Staatliches Hochbauamt Stuttgart.
"This project will not only benefit the school's students and faculty, but also the Stuttgart community both on and off post," Col. Neal Corson, USAG Stuttgart commander, said as he addressed the 50 people gathered on the site of the new school. "On post, the new (160-space) parking deck which is part of the project will provide much needed parking and off-post; the nearly 50 million dollar project will bring an economic boost to local German construction companies."
During the past decade, the Stuttgart community saw the construction of new elementary and high schools on Panzer Kaserne. Now this elementary school begins construction (and possibly a new middle school later).
"The Corps is involved in the construction of 26 schools totaling a billion dollars," said Col. John Baker, commander, USACE Europe District. "For more than 70 years, the Europe District has worked hand in hand with the German government on all our construction projects, and it is a partnership that will continue with this school and those schools in the future."
During the ceremony, Baker "deputized" Principal Beverly Erdmann, Patch Elementary School, and presented her with a hardhat engraved with her name and a reflective vest.
"This hat and vest will enable you to visit the site during the construction process to ensure we are building the school to your satisfaction," Baker said.
Erdmann said it would be an honor to observe the construction of the school, then spoke about the six major themes that guide the design and construction of 21st Century DoDEA facilities. The themes address the ability to prepare students to be competitive after graduation.
The 113,427 square-foot school, scheduled to open in the fall of 2021, is designed for 551 pre-kindergarten to 5th grade students and will provide amenities such as learning studios and hubs, exploratory spaces and flex laboratories.
"The new school will have glass walls separating each classrooms. This might seem like a distraction to some, however; the layout of the new facility will hopefully encourage assignments and activities that fully engage students," said Averi Johnson, PES student council president, who along with student council vice president, Ellamay Miranda addressed the group.
"I believe this new school will create an atmosphere where we are creating with our hands, sharing our ideas and building healthy relationships in a safe place," Miranda said.