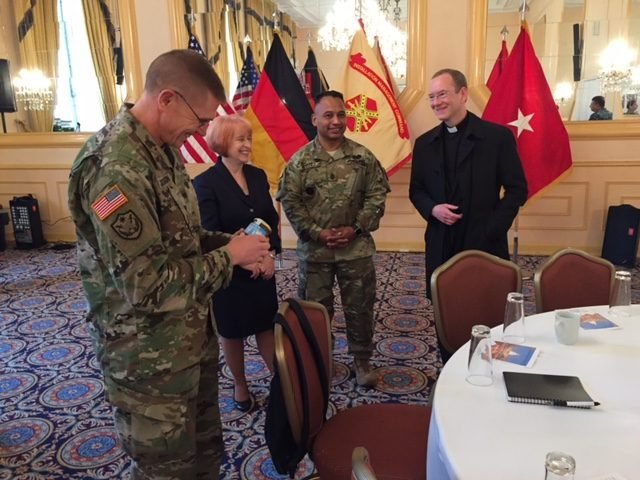 By John Reese
USAG Stuttgart Public Affairs
A generous breakfast buffet, guest speakers of different faiths and a large gathering of service members and civilians from all branches joined together for the U.S. Army Garrison Stuttgart's National Prayer Breakfast, May 4, at the Swabian Special Events Center (SSEC), Patch Barracks.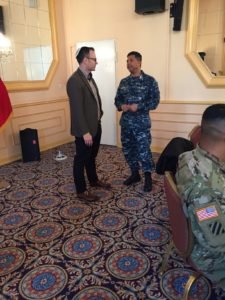 Military and civilian religious leaders representing three major religions, including host nation religious leaders, and garrison commander Col. Glenn K. Dickenson offered opening remarks to the participants between interludes of music for the first half of the program. A variety of different prayers from different faiths was presented.
"From my perspective, this is absolutely a great event," Dickenson said. "Everybody understands how to train for mental fitness, physical fitness … the hardest thing to train for is spiritual fitness. The fact that people take the time to pause from their busy days and actually focus on spiritual fitness, which is what this prayer breakfast is this morning, really means a lot to me and to the community."
Dickenson was joined at his table by his command team and family members of guest speaker Brig. Gen. Donald Bolduc, commander, Special Operations Command Africa.
Command Sgt. Maj. Mariano Z. Alvarez, senior enlisted adviser, USAG Stuttgart, said the prayer breakfast was a great opportunity to break bread together with community members, fellow noncommissioned officers, service members and civilians.
"We get to sit down and hear what the speakers have to say, and enjoy some quality time together," Alvarez said. "We don't get a chance to do that a lot; at least today, we have that chance."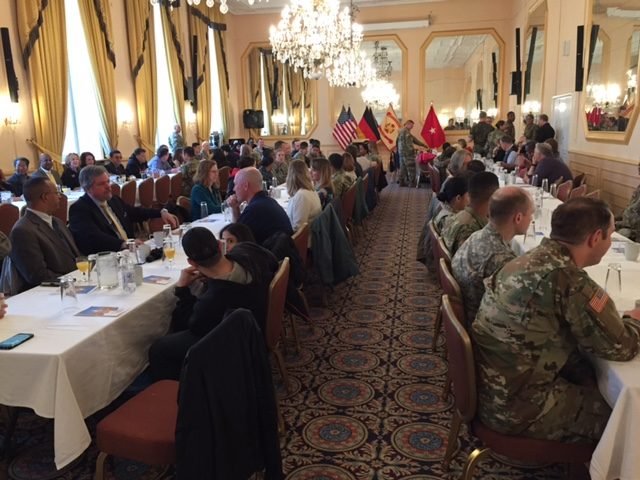 A prayer of supplication was offered by Muslim Navy Chaplain (Cmdr.) Abuhena Saifulislam, U.S. Africa Command deputy command chaplain.
"Every prayer is important. An event like National Prayer Breakfast brings people of all faiths for a common cause — serve God and His creation. It is also a unique way of recognizing the oneness of God," Saifulislam said. "Through unity of faith, hope and love, we will be able to pass to the future generation a world that is peaceful and prosperous."
Bolduc, a dynamic public speaker who needs no script, opened by noting the difficult traffic he'd encountered coming from Kelley Barracks that gave him ample time to jot down a few ideas about what he'd say at the breakfast, suggesting the breakfast participants might include a prayer for those stuck in a stau.
"I think (the National Prayer Breakfast) is important because it brings the past, present and the future all together in a community to recognize faith, commitment, comradeship and a shared understanding of how we should bring together three basic principles: hope, faith and love," Bolduc said.
While much of what he spoke on was serious in nature, his sense of humor well-timed.
His military career saw him deployed to Grenada in 1983 as a junior enlisted Soldier, overcoming skepticism from an officer about himself becoming an officer, only to rise to the rank of brigadier general. Most of his career was spent in Special Forces, with six deployments to Afghanistan, two to Kuwait and one to Iraq. He spoke openly about the toll such an active career as a Soldier took on himself and his family, and how he intends on continuing to serve by helping veterans cope with the scars of war after his retirement this summer.
Moving about the room as he spoke extemporaneously, Bolduc related a humorous story about how he came to better understand his Catholic faith when he was a 10-year-old little league pitcher. He'd prayed for the opportunity to be put into the game until the day finally came when the coach put him on the pitcher's mound. After a few innings, the score was 10-3 in favor of the other team and the coach came out to bench him.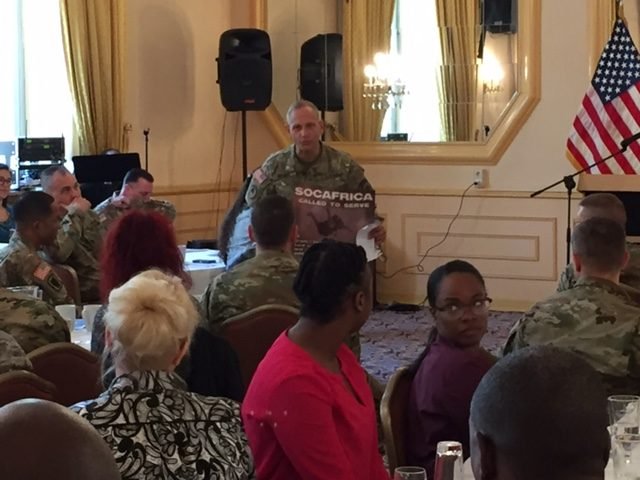 "But coach, I'm not tired," young Bolduc protested.
"Yes, but the outfield is," the coach replied.
The anecdote got a big laugh and round of applause.
Rick Beigler, Defense Information Systems Agency and the garrison's Jewish lay leader who provided the prayer of thanksgiving, noted Bolduc spoke of how he'd used Psalm 133 in relationship to team building.
"In Judaism, Psalm 133 is sung primarily on the Sabbath and is translated as 'How good and pleasant it is for brothers and sisters to sit together as one.' As today's prayer breakfast demonstrated, leaders of different faiths and members of the community at large that belong to those faith groups came together to demonstrate our spiritual strength," Beigler said. "With a community so focused on a particular mission, it is of utmost importance to maintain spiritual health of those individuals and their families so that they may execute that mission with precision, urgency and efficacy.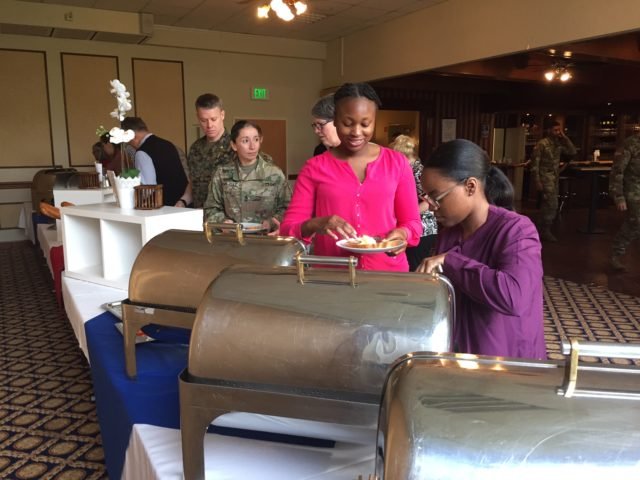 Once again, the SSEC staff and catering team put on a satisfying spread of assorted American and European breakfast favorites. In short order, about 100 service members and civilians moved through two lines and were back at their tables before the speakers took the floor.
The program concluded with a benediction by Chaplain (Lt. Col.) Kevin Leideritz, command chaplain, SOCEUR.