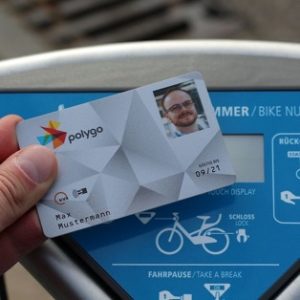 By Holly DeCarlo-White
USAG Stuttgart Public Affairs
If there is one thing employees learn when commuting to and from work at U.S. installations in Stuttgart, it is how hard parking is to come by on post, not to mention the traffic.
To encourage an alternative solution to driving, following employee feedback, U.S. Army Garrison Stuttgart joined the company employee discount program with Stuttgarter Straßenbahnen AG (SSB), the city's public transit service, encompassing the VVS network of U-bahn, S-bahn, buses and bike share. The program began registration for garrison employees Feb. 20, with rollout to other command personnel to follow.
Program registration enables garrison employees, including the local national workforce, to receive an added five percent discount on public transit fares by zone. For U.S. personnel, this discount is also on top of the seven percent Value Added Tax savings for those who submit a VAT form upon registering, and every six months after for annual subscriptions.
Employees can find the online registration link and login to apply on the garrison websites as well as on the USAG Stuttgart mobile app, click Transportation. Those who register by the fifth of each month, once validated, should receive their Polygo transit card to their German mailing address for use by the first of the next month. For example, those registering for the new program between Feb. 20 and March 5 will receive a transit pass for travel valid April 1. Cards typically arrive a few days before the beginning of the month.
"Stuttgart is following the model of many large companies and installations located in cities across the U.S. and abroad. The transit program will be a benefit to both the employees who commute every day, as well as the environmental factor, providing an incentive to lessen the amount of traffic on-post and surrounding communities," said Dag Kregenow, garrison public transit program manager, Directorate of Public Works.
Commanders interested in having their personnel receive this public transportation discount can designate a point of contact to validate their personnel.
For more information, call 421-6280, 0711-7228-6280 or 0162-297-6078.
Register via the garrison employee online login:
Visit: https://vertrieb.ssb-ag.de/login.aspx
Customer number (Kundennummer): 1110295@USArmy
Password (Passwort): firmenabo
Registration is currently only available online in German, however, personnel can download the translated step-by-step guide to registration, here.
Personnel who already have a transit pass through SSB, can cancel online 30 days prior via www.ssb-ag.de/abo-login, or by visiting the VVS office. Example: Terminate by Feb. 28 to begin the program in April.
Subscriptions with the Deutsche Bahn (DB) can be submitted via online in English at https://www.bahn.com/en/view/home/info/cancel-bahncard.shtml. To change from DB to SSB, the DB requires proof of the new subscription. Customers may send DB their SSB subscription email notification.
For more information on public transit costs and routes, visit http://en.vvs.de/tickets/company-ticket/. Note: The price list dated 2018 is still valid. Prices are expected to be updated to further benefit customers and consolidate zones beginning April 1.
Additional resources (in German)