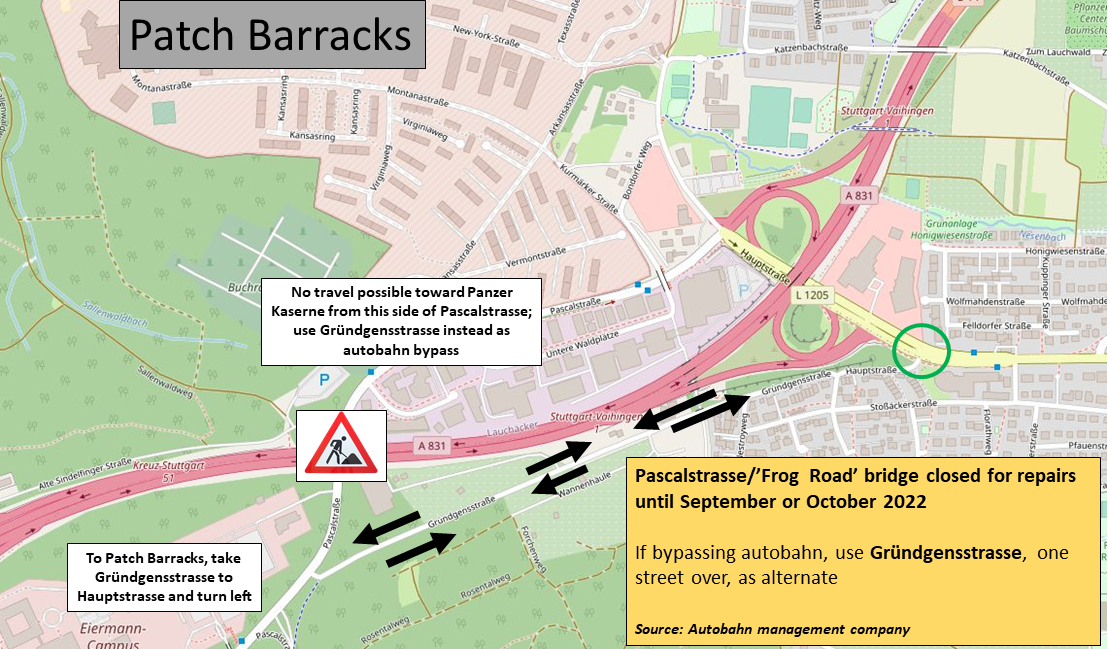 USAG Stuttgart Public Affairs
Travel between Patch Barracks and Panzer Kaserne using Pascalstrasse, commonly known as "Frog Road," will require a detour near Patch while repair work is conducted on the bridge carrying the roadway over Autobahn 831.
Full information is available in the following translated press release from the Autobahn management company:
"Autobahn GmbH's Southwest Branch is repairing the bridge in the course of Pascalstrasse over the A 831 in Stuttgart-Vaihingen from April 25 until probably the end of October 2022.
Damage to the structure, which was built in 1967, was discovered during a regular structural inspection, making extensive repair work necessary. Work will be carried out both on the bridge and underneath it, as well as on the lateral retaining walls running parallel to the highway in front of and behind the bridge.
Traffic on the A 831 – Stuttgart interchange to Stuttgart-Vaihingen junction
During the first construction phase, which will last until around mid-June 2022, all three lanes in each direction on the A 831 will be maintained. They will merely be narrowed and swung toward the median. In the subsequent three construction phases, the interlacing lanes between the Stuttgart interchange and the Stuttgart-Vaihingen junction will have to be shortened. As a result, traffic will run on only two lanes in each direction for the remainder of the construction period. Depending on where the work on the bridge is taking place, one lane of traffic in each direction is expected to be shifted to the opposite side by the end of September to create the necessary space for the construction site.
Traffic on Pascalstrasse/Stuttgart-Vaihingen
Pascalstrasse in Stuttgart-Vaihingen will have to be fully closed in the area of the bridge from April 25 until probably September 2022. Traffic will be diverted in both directions via Gründgensstrasse, whose traffic routing will have to be partially adjusted in advance for this.
Since bus route 84 will also take the detour route, parking will be prohibited on both sides of Gründgensstraße during the construction period."