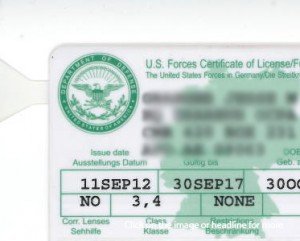 USAG Stuttgart Public Affairs
The USAREUR driver's license allows service members, civilians and their family members to drive in Germany and much of Europe without going through the process of attaining a local driver's license.
Germany is well-known for its autobahn, a network of roadways that the U.S. interstate highway system emulated. Incoming personnel to Germany may be anxious to get behind the wheel and start zipping across Europe on this famous highway system.  Personnel arriving on permanent change of station orders fall under the Status of Forces Agreement must get a U.S. Army Europe driver's license.
Without exception, personnel and family members who intend on driving must obtain a USAREUR driver's license. An international driver's permit alone does not give you authority to operate a USAREUR-plated vehicle. Additionally, you cannot legally drive a rental car while you wait for your vehicle to arrive without a USAREUR driver's license.
Getting a USURER driver's license is part of the U.S. Army Garrison Stuttgart's in-processing at the Central Processing Facility, Bldg. 2913, Panzer Kaserne.
To get a USAREUR driver's license, personnel must take an orientation class followed by a test about road-sign identification, and a series of questions pertaining to German and European traffic laws. The fee for the class and test is $20, and no appointment is necessary. Personnel must present a stateside driver's license to take the test and are advised to have their stateside driver's license and their USAREUR license when driving.
Visitors driving USAREUR-plated vehicles
Visitors should get an international driver's permit before arrival, then visit the garrison customs office with the license, passport and the registration of the USAREUR-plated vehicle. Visitors without an international driver's permit must have their valid stateside driver's license translated from a court approved translator in Germany. The customs office can then issue an exception to policy letter. The visitor must carry the letter, passport, stateside license translation or international driver's license whenever they are operating the sponsor's USAREUR-plated vehicle.
Studying for a USAREUR license
For more information, visit the Driver Testing Station, Rm. 301, Bldg. 2913, Panzer Kaserne, or call DSN 431- 2007 or civ. 07031-15-2007. The USAREUR driving manual and a practice test can be found at the USAREUR Registry of Motor Vehicles.
Take the test online prior to PCS
Personnel and family members may complete license training and take the exam prior to arrival. Family members should use the DoD identification number located on the front of their ID cards to log on. The online certification is valid for sixty days and must be valid upon arrival at the Drivers Testing Office.
Visit Joint Knowledge Online to enroll in the orientation "USA-007 ,U.S. Forces Driver's Training Program for Europe," followed by the test "USA-007-B, U.S. Forces Driver's Training Program for Europe-Final Course Exam."
Wait two business days (48 hours) and then come to the Driver's Testing Training Station to be issued a POV license.