By Teri Weiss
Special to The Citizen
Palm Sunday is April 9 this year, marking the beginning of Holy Week. It is the sixth Sunday in Lent, one week before Easter.
It commemorates the biblical account of Jesus' triumphant and last ride into Jerusalem on a donkey as the faithful spread palm branches in his path to welcome him, an event conveyed in all four Gospels.
"Crowds of people welcomed Jesus to Jerusalem, throwing their cloaks in his path and waving palm branches" (John 12:19, Mark 11:1-11, Matthew 21:1-11).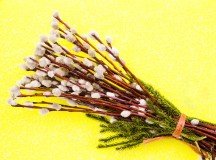 Since palms don't grow in central and northern Europe, instead of palm fronds, various locally available greenery such as box, yew, olive, birch, hazelnut, forsythia or willow twigs and branches are substituted and brought to church.
One tradition dating back to the 8th century is the Palm Sunday processions through the streets. Some German parishes and towns still hold these palm parades. After church services, the blessed "palm twig bouquets," many decorated with colorful ribbons, are taken home and placed in vases. According to old beliefs, they may ward off evil and may even protect the home from lightning and stormy weather.
In certain areas of southwest Germany, peasant customs from the past are preserved as in olden times. Here in Württemberg, the region around Stuttgart, farmers still mix dried pussy-willows into their animal feed to protect them against sickness and epidemics.
Ever since the 16th century, several southwest Württemberg towns hold a so-called "Brezgenmarkt" (pretzel market). Officially established in the year 1533, the City Council Protocols of Ulm permitted various communities in the Hungerbrunnental to celebrate each spring on Palm Sunday a feast day with dancing and a "wedding market."
Schwäbische Palmbrezeln (Swabian palm pretzels) are larger than usual and are made without salt or brine. They are meant as Lenten fare only for Palm Sunday. In Catholic areas, these pretzels are part of the decorated "Palmstecken" (palm sticks), which are carried through the streets to church to be blessed there and later shared with family and friends.
About the Author: Teri Weiss, contributor to  The Citizen's Culture and Leisure section, was until 2014, a University of Maryland History, Government and German Studies professor and long-time author of many AFN radio broadcasts such as "Here and There in Baden-Wuerttemberg."  Weiss also covered articles on German politics, life and culture, customs and traditions, and  translated, edited and published the English annotated version of "The German Southwest" (KohlhammerVerlag, Stuttgart). Tuebingen is currently her home away from her Chicago home, in the heart of Germany's Great Southwest.