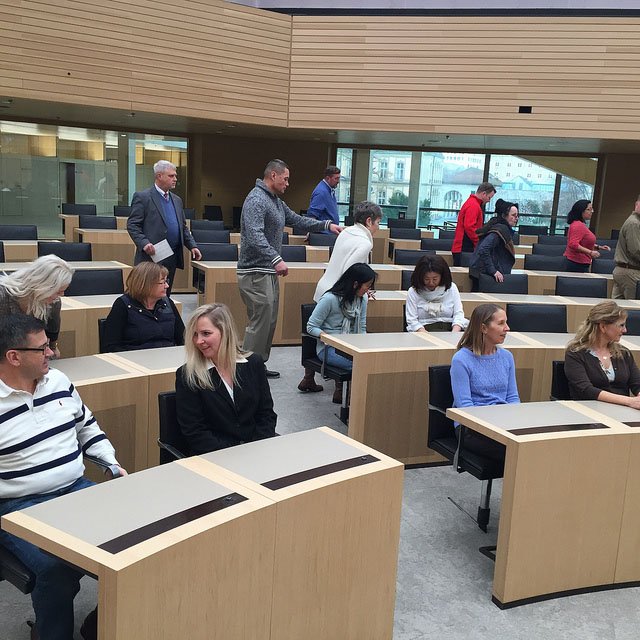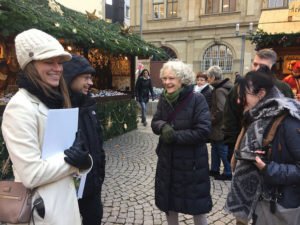 Public Affairs
USAG Stuttgart

UPDATE, May 17, 2019: There's still a few seats left for the May 23 CCVP. Sign up using the link or calling the number below. This is a great introduction to downtown Stuttgart, and there's an added surprise visit to a historic building on this tour not included on previous tours.
The dates are set for the next four Capital City Visitation Program tours: March 13, May 23, Oct. 7 and Dec. 3. If you haven't already done so, the CCVP tour is a must during your tour of duty in Stuttgart.
Participants will learn about the German political system during a visit to the State Parliament in downtown Stuttgart. History buffs can hear about the "Speech of Hope" and the importance of the U.S. Forces presence here from the U.S. Forces Liaison Office-Stuttgart. The tour also includes a visit to Stuttgart's Rathaus (city hall), and other landmarks in the downtown area. A traditional Swabian lunch is included in the tour.
The tour is free and open to all ID card holders 14 years and older. Participants will be picked up at 8:30 a.m. at the bus stop in front of the main Exchange on Panzer Kaserne. The tour lasts until 5 p.m.  Dress is business casual and good walking shoes.
8:30 a.m.: Departure from the Panzer Exchange
9:20 a.m.: Arrive at Karlsplatz (Karl Square) behind the Old Castle, walk to the State Parliament of Baden-Württemberg (Landtag) in the Castle Gardens (Schlossgarten)
9:30 – 10:30 a.m.: Tour of the parliament building and hands-on experience of the Baden-Württemberg State Government
10:45 a.m. – noon: Presentation of the "Speech of Hope"
12 – 1:30 p.m.: Lunch at the Parliament Restaurant sponsored by the State Parliament of Baden-Württemberg
1:30 – 2:15 p.m.: Walk to and tour of the Neues Schloss
2:15 – 3:15 p.m.: Walking tour of the city center
3:15 – 3:45 p.m.: Mayor's welcome at the city hall and short"Welcome to Stuttgart" video
4 – 5 p.m.: Return to Panzer Kaserne
To sign up, click here or call 431-3463/3099.