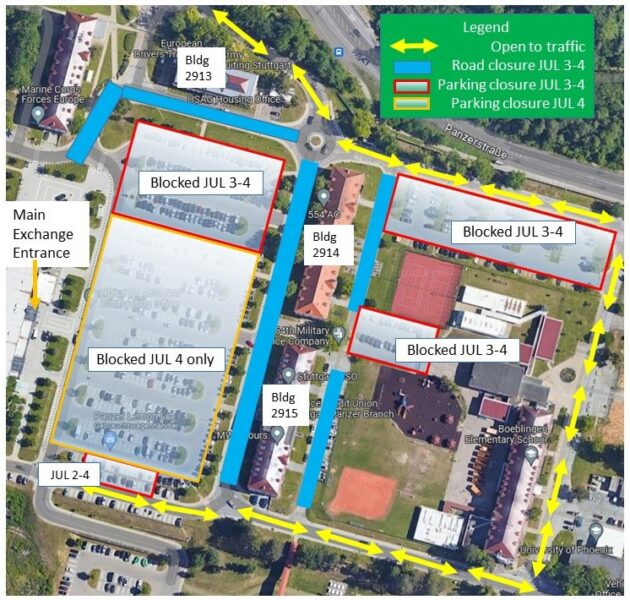 By John H. Campbell
USAG Stuttgart Public Affairs Office
The 2023 Independence Day event promises to be one of the biggest celebrations Panzer Kaserne has seen in decades.  To pull it off, officials at U.S. Army Garrison (USAG) Stuttgart are asking for your help.
Garrison staff are currently planning for the annual July 4th celebration. With renovation work underway at Husky Field on Patch Barracks, this year's event will be held at Panzer Kaserne.  For the first time in at least 20 years, the garrison will also open the gates at Panzer to citizens of its neighboring German communities.
"We are anticipating a big crowd," said Joe Johnson, Director of Family and MWR for USAG Stuttgart, the man charged with planning the party.  "The garrison hosted an event at the Panzer Firehouse that drew 2,000 people on May 1st.  We have every reason to believe we'll see a big turnout for July 4th as well."
The event is scheduled to start at 4 p.m. on July 4.  A DJ will provide music until the early evening, when a live band, Mayer, takes the stage.  A 10-minute display of fireworks is scheduled to start at 10:30 p.m.  The event concludes at that point.
Garrison officials will stage the event on the main parking lot at the Panzer Exchange.  To accommodate the food, games, activities and entertainment on the 4th, the garrison needs additional cooperation from members of the Stuttgart military community.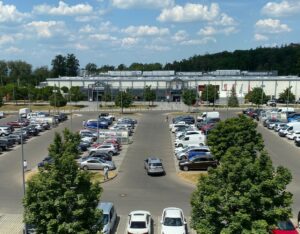 .       Clearing of vehicles from the parking lot at the Panzer Exchange-garrison staff plan to use every single parking space on the main for the event.  Cars should be moved no later than 0100 hours on July 3rd so crews can begin setting up.  Additionally, garrison officials ask owners of bikes parked near the main lot to ensure their removal.  Vehicles and bicycles that are still in the way when crews start setting up will be towed or otherwise moved at owner's expense.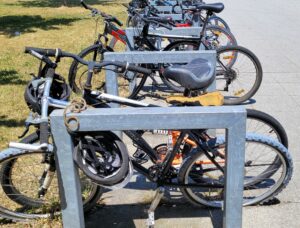 .       Closure of streets around the main Exchange parking lot-Starting Monday, July 3 until the early morning hours of Wednesday, July 5, Garrison officials will close the streets that surround the main parking lot that run in front of Buildings 2913 (Welcome Center), 2914 (554th MP Company), and 2915 (ACS/MWR/USO building) Traffic coming onto Panzer during this time will detour by using streets near the Veterinary Clinic, the Panzer Speedy Lube, and the old "Patch on Panzer" school building.
.       People conducting business at the main Exchange on Monday, July 3, should expect less parking than normal (about a quarter of the lot will be closed).  People conducting business at the main Exchange on Tuesday, July 4 should expect no parking in the main lot.
.       Parking for the event itself will be EXTREMELY limited.  Garrison officials are encouraging people who live on Patch, Kelley, or Robinson Barracks to ride shuttle buses, which will be running a special schedule on July 4 after 3:30 p.m.
.       To accommodate German community members, a temporary fence will be erected around the event area.  The event area will be considered "off post."  Those who wish to access other areas of Panzer Kaserne (i.e. Galaxy Bowling Center, chapel, etc. will need to show their DoD ID card at one of the gates controlling access out of the event area.
.       The duty bus will run a holiday schedule on Monday, July 3.  It will also run a holiday schedule on Tuesday, July 4 until 3:30 p.m., at which time buses will make runs directly between Panzer and each of the other installations in Stuttgart (Patch, Kelley, and Robinson).  The special bus runs will continue for until all persons are transported from Panzer to their originating installations (estimated to be 60-90 minutes after conclusion of event).
.       Sign-in of visitors will be suspended at Panzer starting at 12 p.m. on July 4.  The gates will open to German guests and those who don't have a DoD ID card at 4 p.m. (with no sign-in required, all will walk through the main gate at Panzer, bags will be checked).
"Before September 11th, it was common to Germans to celebrate our independence with us," said Johnson.  "We are hopeful that, by opening up the gates of Panzer to our neighbors, we can rekindle some of the magic that existed in those times."
Additional information on shuttle buses and other transportation options will be shared as it becomes available on the StuttgartCitizen.com website, on the garrison app, and on the garrison Facebook page.  The garrison Public Affairs team is also working with AFN Stuttgart (102.3 FM) to broadcast more information during the last week of June on this event.  Finally, the Family and MWR website has more information at https://stuttgart.armymwr.com/happenings/celebrate-independence-day.