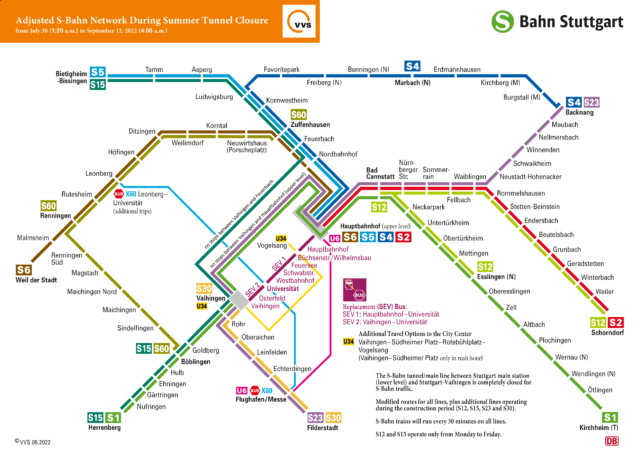 By Bardia Khajenoori
USAG Stuttgart Public Affairs
The Stuttgart S-Bahn's central trunk route and tunnel will be closed for about six weeks — from 1:30 a.m. on July 30, 2022 until the start of service on September 12 — to accommodate track modernization/maintenance and the renovation of stations along the segment.
During this time, S-Bahn trains will not serve the stations at Stadtmitte, Feuersee, Schwabstrasse, Universität, or Österfeld, and will stop at tracks 1-5 on the upper (oben) level of the main station/Hauptbahnhof instead of the usual underground platform (tief). The S-Bahn will also be running a modified route network during the closure, which takes place during the traditional summer vacation period in Germany.
Two replacement bus services will offer connections between affected stations: SEV 1, running between Hauptbahnhof and Universität (with several stops in between); and SEV 2, running between Vaihingen and Universität via Österfeld. Bus stops are marked in English and German with the line and direction the bus serves, and the way to the temporary stops are marked with colored lines on the ground from S-Bahn station entrances.
Some regional trains will have alternate start/end points due to limited capacity at the main station and on above-ground tracks not normally used by the S-Bahn.
The U34 U-Bahn line will also be extended from Südheimer Platz to Vaihingen during rush hour to offer additional connections. Aside from this, and additional connections being offered on some routes to meet expected demand, the U-Bahn and bus systems are not affected by this closure.
Community members are highly recommended to use mobile apps such as DB Navigator, SSB Move, and VVS Mobil during the closure period. These apps will use the adjusted routes and schedule when determining the best way from one location to another, and also provide live information about any temporary closures or adjustments on a particular day.
The work is part of a multi-year project centering on digitizing and improving the decades-old tunnel segment to increase capacity. Summer closures began in 2021 and will also occur in 2023 and 2024.
For additional information (in German), visit the VVS website.