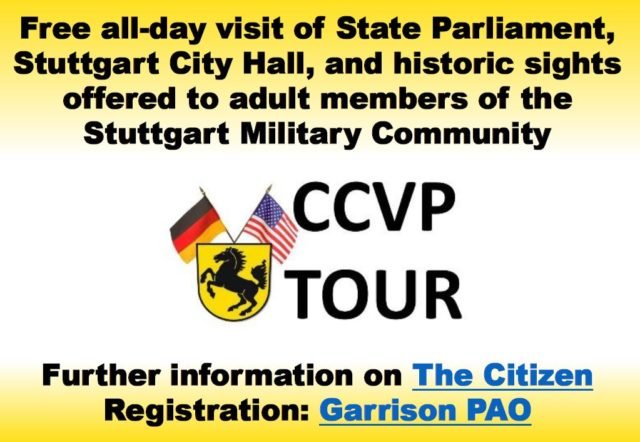 USAG Stuttgart Public Affairs
Several times per year, a group of service members, DoD civilians and family members from the U.S. Army Garrison Stuttgart community have the opportunity spend a day downtown as guests of the state parliament, state government and the City of Stuttgart.
Since 1993, the Capital City Visitation Program has increased German-American contact and provided an overview of the German state of Baden-Württemberg. Participants are from all services, ranks and units stationed within the garrison footprint. It is an excellent opportunity to learn the history shared by the U.S. Forces and the local government. The tour emphasizes the crucial role the U.S. played in reconstructing war-torn Germany and providing it with its present day democratic constitution.
The program begins at the state parliament, with a presentation on the political structure and current political situation as well as a comparison to the U.S. political system.  The presentation will also include a film about the State of Baden-Württemberg. A luncheon is hosted for participants after visiting parliament.
A guided walking tour to the adjacent State Theater, Neues Schloß and Altes Schloß, and the Market Hall of Stuttgart.  The program concludes with a reception at city hall with the lord mayor or his personal envoy.
The presentation at the city hall includes a film showing some of the highlights of the city of Stuttgart and the state of Baden-Württemberg. Participants receive informative handouts in the form of brochures and books covering a myriad of topics on history, politics and culture, as well as taking a light-hearted look at interesting cultural differences between Germans and Americans.
The tour is the participants place of duty for that day in civilian attire. This tour is not designed for children.
Sign up for the CCVP
Interested service members, DoD civilians and family members must sign up for the tour.