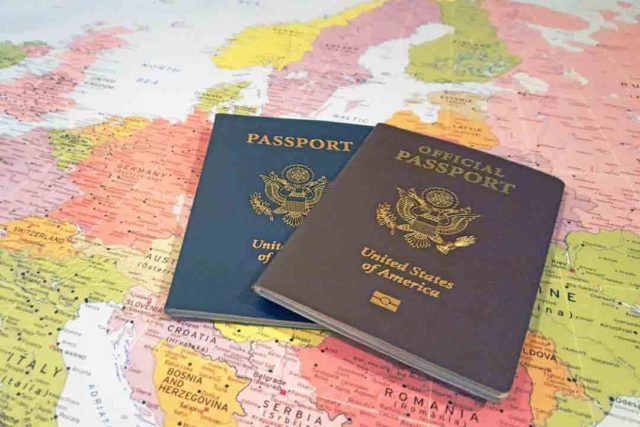 By Bardia Khajenoori
USAG Stuttgart Public Affairs
A passport is one of the ultimate symbols of travel possibilities, and there are a few things that personnel stationed abroad should know about them to make the most of their tour and stay on the right side of the law.
Types of Passports
One of the most important things to be aware of is the difference between a 'tourist' passport and an official or no-fee passport.
"Anyone going on leisure travel outside of Germany must have a tourist passport in hand, and cannot travel with an official passport for leisure," said Aurora Tovar, supervisor of the USAG Stuttgart Passport and SOFA Office. "If someone has both, they must travel with both and present the official passport when entering or leaving the country of assignment and the tourist passport at leisure destinations." Border police may consider using the wrong passport to be a misrepresentation of your purpose for traveling.
An update to the Department of Defense Foreign Clearance Guide took effect in 2021 which made official travel with a special issuance passport (SIP) mandatory for all DoD civilians and DoD-sponsored family members. A temporary exception to policy allowing use of a regular passport is scheduled to end on September 30, 2022, and the Passport/SOFA Office continues to process SIP applications daily. Customers can make appointments through the garrison mobile app and Stuttgart Citizen website or contact the office if they have questions about the requirement.
SOFA Status
"A Status of Forces Agreement (SOFA) card or stamp essentially serves as your visa, allowing you to legally live in Germany in support of the U.S. govern- ment and clarifying that you're not a tourist," Tovar said. "It's important for those who are assigned here to obtain SOFA identification, which is either a stamp in an official or no-fee passport or a card in the tourist passport of anyone who doesn't have or isn't eligible for a special issuance passport."
Travel in the Schengen Area
Twenty-six European countries are part of the Schengen Area, established by an agreement to abolish regular passport checks at internal borders of its member states. This 'border-free zone' makes travel between them more akin to a domestic flight or drive across a U.S. state border rather than an international one, but it doesn't change anything about the documents you need to carry – regardless of the mode of transport.
"Anytime you're crossing a border, you must travel with your passport(s)," Tovar said.
Temporary border controls can and have been employed more frequently due to the European refugee crisis and COVID-19, among other reasons. In some countries, police have the right to stop and request identification from individuals even without suspicion of wrongdoing, and only consider national IDs (such as a passport, for U.S. Citizens) to be valid. A military ID or driver's license is not a substitute, and penalties for being caught without a passport outside your country of assignment can include fines and detainment.
Renewing your Passport
DoD-affiliated personnel must apply for passports through their on-post passport offices, rather than directly through an embassy or consulate.
"You can renew your tourist passport one year prior to the expiration date, and we advise everyone to do it as soon as possible so you never run into the issue of traveling on a passport that has less than three or six months of validity," Tovar said, as many countries do not allow entry to individuals whose passports expire within this timeframe. Present turnaround time is approximately six to eight weeks for special issuance passports and four to six weeks for tourist passports.
Lost or Stolen Passports
If you find your passport lost or stolen while traveling abroad, contact the nearest U.S. embassy or consulate in that country.
Should the same situation occur while in or near Stuttgart, even when travel is planned for the near future, regulations require DoD-affiliated personnel to contact their installation's Passport Office to apply for a replacement or coor- dinate an emergency passport appointment. "Please don't just drive up to the Frankfurt consulate to request an emergency passport if you are DoD-affiliated, because they will turn you around and tell you to come back to our office," Tovar said.
Know what you'll need to provide by using checklists
"The biggest thing I would say is to make sure you have all the paperwork you need, like birth certificates and marriage licenses, on hand," said James Lee, a contractor who has used the Passport Office for a variety of services over the past three years. "There are checklists [on the garrison website/mobile app] and on the wall just outside here, so you can grab one even if they're closed. They're very helpful."
While you may need to provide original documents, they are generally not required to be sent with the application, and the office will make certified copies. An application for a first-ever passport is an exception. "We do take the original birth certificate or original naturalization certificate in that case, but the original(s) will come back with the passport," Tovar said.
This article was originally published in the 3rd Quarter 2022 edition of the Stuttgart Citizen magazine.