Public Affairs
USAG Stuttgart
The following is a compilation of phone numbers and web links to help you get through PCS out-processing from USAG Stuttgart.
Update Alert! registration
The Alert! mass-warning notification system sends registered users emergency warnings and other critical information, such as hazardous road conditions, reporting delays, and base closures due to severe weather. The notifications are mostly local, but may also be theater-wide.
The system notifies users in several ways: as a pop-up on your workstation computer, an email to work and home addresses, a text message to your cellphone, and a voicemail to work, home and cell phones. There is also as smartphone Alert! application.
Alert! is not optional – it is a Department of the Army requirement to be a registered user. All U.S. and non-U.S. military, civilian–all categories–and contractor personnel whose normal place of duty is on an Army garrison, installation, community, forward site or facility, must register in Alert!
From a CAC-enabled computer, register in Alert! at the self-registration link. Note, this web address on the garrison's official website still reads the previous system, AtHoc, but the information is up-to-date for Alert!.
Select the "MY PROFILE" tab on the top of the screen.
Select the "EDIT" button on the top right of the screen to change or remove your location and information.
Personnel can also contact their unit Alert! manager via phone, email or in person and request to be removed from the system.
If unable to contact unit Alert! administrator, Stuttgart service members may contact the Emergency Management Protection Branch officer at 596-2031 or 07031-15-2032.
On-post taxi service information
Not all taxis are authorized to enter the garrison installations. If you need a taxi to pick you up or drop you off at Kelley Barracks, Patch Barracks, Robinson Barracks or Stuttgart Army Airfield, call 0711- 8888-8888. For taxis to or from Patch Barracks and Panzer Kaserne, call 07031-19410. Note, these phone numbers are subject to change.
More handy phone numbers and office references
Call to confirm hours of operation for U.S., German and training holidays.
Army Community Service
Bldg. 2915, Panzer Kaserne
596-3362 or 09641-70-596-3362
Weekdays, 8 a.m. to 5 p.m.
ID Card/Installation Access Control
Bldg. 2915, Panzer Kaserne
596-2333 or 09641-70-596-2333
Weekdays, 8 a.m. to 4:00 p.m.
Panzer and Kelley Hotel reservations, 421-5793 or 421-4671, or 0711-729-5793 or 0711-729-4671
Panzer Front Desk 07031-15-3490, open 24 hours
Kelley Front Desk 0711-729-2815 (Note, as of press time, due to the COVID-19 situation, the Kelley Hotel is closed. Normal operations should resume as PCS season continues.)
Transportation Office
Bldg. 2913
596-3338 or 09641-70-596-3338
Mon-Wed, Fri: 7:30 a.m. to 4 p.m., Thu: 1-4 p.m.
SATO Travel
Bldg. 2307, Patch Barracks
430-2106/2107 or 0711-656-9240
Bldg. 3300, Kelley Barracks
421-5812 or 0711-729-5812, for official travel only, weekdays 8 a.m. to 4 p.m.
Healthy Resources at USAG Stuttgart
Suicide/Crisis Hotline: DSN 118 or 596-3102, or 0711-680-0113 or 07031-153102
Family Life Chaplain: 596-6078 or 07031-15-3078
Military Family Life Counselors: 170 708 0715, 176 1007 7470, 1522 248 3789 and 1 682 812 0500
School Counselors: 590-1615; 06371-9464-1615
Massage Therapy: Certified massage therapists are available at the garrison's fitness centers.For more information, visit the MWR sports and fitness pages.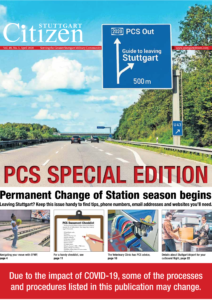 Unsubscribe from Stuttgart email
To stop receiving the Stuttgart Citizen daily email update, do the following: In the text version, scroll to the bottom of the email. Copy the link immediately following "unsubscribe from this list" into an internet browser to be removed from the list.
In the HTML version, scroll to the bottom of the email. Click the link highlighted, "unsubscribe from this list."