Commissary Concierge
How it works
If an individual or family cannot shop for themselves at the Commissary due to COVID-19 conditions (such as quarantine or high risk status), they can request a volunteer shopper. The shopper can shop for them and deliver items to their hotel room (on or off-post) if in quarantine, or to their car at the Commissaries. Payment is made by phone to a Commissary cashier using a credit card.
CUSTOMERS: After reviewing the program ordering instructions below, please contact the volunteer coordinator or send a message to the ACS Facebook page. You will need to provide your shopping list when signing up.
VOLUNTEERS: Please contact the Volunteer Coordinator to begin serving this program.
Shopping List Forms
---
Exchange Concierge (PX)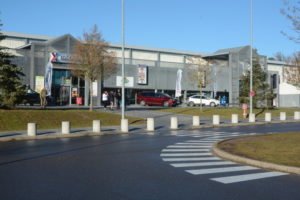 Click here for a printable flyer of the below steps.
Step 1: Log on to www.shopmyexchange.com and select the items you need. Be sure the items are eligible
for Pick Up In Store and your store is the Stuttgart – Panzer Main Exchange.
Step 2: Proceed to Checkout and make sure your items are all marked for Pick Up In Store at the Stuttgart – Panzer Main Exchange.
Step 3: Select the option prior to completing your payment: "Will someone else pick it up?" Enter "Stuttgart ACS Volunteer" into the Pickup Person Name block. Use your own email and phone number for order confirmation.
Step 4: When your order is ready for pick up, you will receive an email. Simply send your Order Confirmation to the Stuttgart ACS Coordinator at usarmy.stuttgart.id-europe.mbx.acs@mail.mil.