USAG Stuttgart Directorate of Public Works
UPDATE, April 18, 2019: Blocking of parking spaces  in front of Bldg. 2316 Power Plant II, Patch Barracks is needed for the repair of the roof. Scaffolding is in place. The contractor has requested to block a total of 11 parking spots at Bldg. 2316 from April 23 through the end of September 2019.
Additional parking spaces in front of Bldg. #2316 will be blocked during the month of May to conduct manhole work. A crane is slated to be placed on the second row of the parking spaces in front of Bldg. #2316 temporarily beginning mid-May.
Note: The start and ending dates are subject to weather conditions.
UPDATE, Jan. 24: DPW reports both lanes on Texas Strasse, Patch Barracks, opened for traffic yesterday afternoon. Top layers with the asphalt layer will be done later by the contractor, winter weather permitting. For the work at parking area in front of Bldg. 2316, the contractor is trying to meet the scheduled dates, subject to winter weather that could take longer. 
Also, parking spots along Texas Street on the side of  Bldg. 2316 are slated to be blocked, Jan.  28 – Feb. 1, for tree care work to be done. The contractor will block the required parking spaces. Again, this is contingent upon the weather.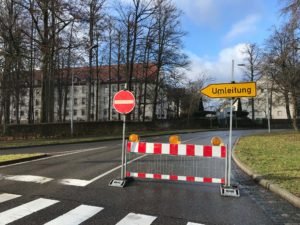 UPDATE, Jan. 15, 2019: Regarding the road work on Texas Strasse in front of Bldg. #2316 that began Jan. 7 will continue through Jan 23, weather permitting. Last week, work was interrupted due to snow and ice weather conditions. The northbound lane of Texas inbound from the main gate is closed and is expected to reopen by Jan. 23. Detour signage will be posted again. To access housing, residents must make a left onto Arkansas Strasse when entering the installation and follow the detour signs around Washington Square; if entering from the K&K gate, continue straight and follow the detour around. Work in front of Bldg. #2316 will be continued until  Jan. 31, subject to weather that could take longer. The road behind Bldg. 2315 will be blocked until Jan. 18. Parking spaces will also be blocked in front of Bldg. 2301 until Jan 18 and  in front of Bldg. 2316 until Jan. 31. Parking is possible in front of Bldg. 2302.
UPDATE, Jan. 8, 2019: A detour is in place near the Patch Barracks main gate. The sudden roadwork is expected to conclude by the end of the week. Motorists will have to turn on to Arkansas Strasse and loop around Washington Square, around Finance Row and then back. Traffic on Texas is one way; today it is southbound in the direction toward off-post.